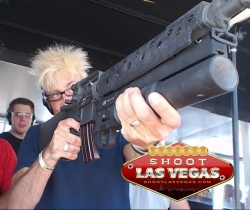 Las Vegas, NV, March 05, 2015 --(
PR.com
)-- Most people would agree that shooting at an indoor gun range at a paper target might be a little lackluster compared to shooting outdoors at steel plates that ping and targets that explode with that thrilling concussive thud in your chest. But one of the challenges to shooting outdoors in a town like Las Vegas has always been the extreme heat in the summer and the biting cold during the winter…until now.
"With so many visitors enjoying all the luxurious amenities Las Vegas has to offer, why should you have to stand in the dirt, wind, rain, or hot sun to enjoy the excitement of shooting a machine gun outdoors," says Eric Brashear, the "Big Shot" at Shoot Las Vegas. Enter the climate controlled Mobile Firing Line with its hydraulic windows that open to shoot from and flip down shooting tables. Brashear called on his 25 years in the special event industry to create something truly high-end for discerning guests to enjoy. With its dark wood walls, observation bench, coffee maker, chilled soft drinks, and even WiFi, this luxury firing line has it all. Want to shoot at night? It's even equipped with high power lights to light up the shooting range.
As impressive as that may be, it's nothing compared to the arsenal of more than 50 guns they're packing onboard. From fully automatic machine guns, to Western Six Shooters, Gangster guns, Military, and even Sniper rifles. They even have Pink guns for the ladies. And all these are at your fingertips to choose from. "We wanted to offer a truly customized shooting experience for each guest. Rather than shoot only the guns in a particular package that may include some guns that a guest may not want to shoot, our packages are 6-Gun, 9-Gun, 12-Gun all the way up to 30-Gun packages. This way each guest gets to individually choose which guns they want to shoot."
And how could you possibly choose just which guns to shoot? Easy, Shoot Las Vegas has tied all of their guns in with popular movies and the wall is filled with custom movie posters depicting that model gun in the movie along with some trivia on the gun. They even have a "Kick Rating" on the posters to give you an idea what to expect when shooting. Speaking of movies, you can also star in your own. Each shooting station is equipped with a photo video system that enables guests to share their shooting experience on social media, email, or text live from the firing line and it's included in all the packages. So you've gotta ask yourself, do I feel lucky. Well, Do ya punk?
One other notable aspect to Shoot Las Vegas is that they call themselves a non-violent shooting experience. "We don't use human silhouettes or even Zombie targets. It's not about taking down the bad guy, it's about what it's like to shoot many different types of great guns," says Brashear.
You don't have to pay VIP bucks to afford this VIP treatment. All-inclusive packages range from $222.00 for the 6-Gun to $999.00 for the 30-Gun. They also offer upgrades such as the Barrett .50 caliber Sniper rifle, the M2 .50 cal Full Auto Machine Gun, and you can even blow up a car! To book online or get more information visit www.ShootLasVegas.com.
About The Big Shot
Eric Brashear has been in the arcade game business for 30 years as a game designer, arcade operator, and game rental company. With more than 25 years renting games for up to 600 corporate events a year, he traded in his toy guns for the real thing when he sold his game rental company. He combines his creativity with his 25 years in Hospitality to create high-end experiences for individuals and groups.
About Shoot Las Vegas
Shoot Las Vegas is a premier, entertainment-oriented firearm experience. From guns featured in hit movies and television programs throughout the last century to popular historical firearms, guests have the opportunity to pick and choose the guns they would like to shoot under one-on-one supervision by range safety officers. Shoot Las Vegas events are available for private bookings including team building experiences, corporate events and business outings. Shoot Las Vegas also offers customizable shooting experiences, perfect for bachelor/bachelorette parties, birthday parties and other private events. Shoot Las Vegas is a mobile shooting facility that offers supreme comfort through a climate-controlled mobile firing line and hospitality trailer. For more information, please visit ShootLasVegas.com or connect through social media on Facebook or Twitter.
PR and Media inquiries
Eric Brashear
(702) 561-9719
Eric@ShootLasVegas.com