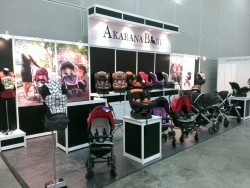 Auckland, New Zealand, March 06, 2015 --(
PR.com
)-- HareNet Marketing Sdn Bhd, the authorised distributor of Akarana Baby products in Malaysia have successfully launched the products in the International Baby Expo 2014 at the Kuala Lumpur Convention Centre. The products have been receiving positive feedback from the visitors as well as generated a substantial sales enquiries throughout the three days event.
Akarana Baby ergonomic products of strollers, car seats and baby hipseat carriers are designed with tender love and care for flexibility, manoeuvrability and comfort. It offers practicality with style, in colours to fit every personality, lifestyle and daily world of routine, travel and play. Advanced safety technology is built-in according to stringent New Zealand and European quality standards, giving you peace of mind for the baby's well-being.
Prospective buyers interested to become Akarana Baby products distributor may contact us via email: onlinesales@akaranababy.co.nz . For further information on Akarana Baby, please check out www.akaranababy.co.nz .
About HareNet Marketing Sdn Bhd
HareNet Marketing Sdn Bhd first foray into retailing world in 2011. Capitalizing on the experience gained working with an established brand owner and also a manufacturer, the company has grown quickly moving up the supply chain from retailing to distribution business. In 2014, the company successfully holding the authorised distributorship from Auckland-based company, Akarana International Limited in distributing Akarana Baby products in Malaysia.
About Akarana International Ltd
Akarana International Limited is based in Aotearoa, a manufacturer of baby products specifically in baby transport solutions producing quality strollers, car seats and baby hipseat carriers.
AkaranaBaby has a unique New Zealand design and feel that is sought by parents all around Oceania. Its innovative and ergonomic quality products are created for style, comfort, and practicality, for both parent and baby, with utmost safety in mind – satisfying meticulous New Zealand and European standards.
Contact Information:
General Enquiry Tel: +649 4194377
Email: onlinesales@akaranababy.co.nz
Website: www.akaranababy.com