A New Romantic Comedy Brings Love, Hate, and Getting on the List to a Whole New Level
New Romantic Comedy Shines Humor onto the Pretentiousness Nature of Hollywood's Most Prestigious Nightclub, Party and Lounge VIP Guest Lists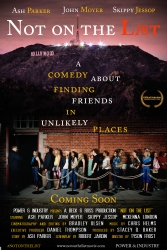 Los Angeles, CA, March 14, 2015 --(
PR.com
)-- Not on the List is a lively, romantic comedy cataloguing the relationship between two polar opposite childhood friends, Piper Tanner played by Ash Parker (The Question, More Time for Christmas) and Wally Miller played by Skippy Jessop (Virgin Diaries, Sundance Skippy). Piper and Wally have made a profitable business of getting people on the coveted "LIST" of every Nightclub, Bar and luxe lounge in Los Angeles... until now. New Club Owner Carl Royce played by Comedian John Moyer (Singles Ward, Dining with the Dean) owns the hottest spot to be scene in Hollywood, the Spark Lounge, and with it, the threat to bring an end to the duo's "LIST" building empire.
Together, Piper and Wally's prosperous art of getting Clients on the "LIST" quickly unfolds when Wally, the brains behind the operation, falls in love for the coat check girl at the Spark Lounge and begins to unveil the groups most regarded secrets. Piper, a no-nonsense type of girl, is forced to go head-to-head with one of Hollywood society's crème de la crème Carl Royce. The combination of love, hate and highs and lows of clubbing catch up to them in a twist of Who can trust Who.
"We were excited to film on the famous Sunset Strip for the simple sake of nostalgia. I grew up with the Key Club, The Viper Room, and the Whiskey, it is fun to relive them," said Not on the List Executive Producer and LA native Daniel Thompson. "Who hasn't had that moment when you're told sorry pal, you're not on the list!"
Principle filming wrapped up this week in Los Angeles with only a few minor pickup shots prior to distribution. "Our project is near completion and we look forward to its release in multiple markets. We'll definitely be submitting it to film festivals along the way," said Producer Stacey D. Barker.
Not on the List has already received some excellent preliminary reviews from some of the Industry's toughest critics. "This is the most unique party crashing scheme idea I have ever heard of...its hilarious what people will do to get in." Rebecca Martin wrote in her column TOWN THINKERS.
The Film was produced by Power & Industry® whose credits include the success of Flip Men on Spike TV, Break on BET and the award winning Documentary Foreclosure Boys. Producer Stacey D. Barker, Principal at Jade Umbrella PR and seasoned publicist, has made a name for herself with top entertainment and lifestyle events around the country. She brings an incredible amount of talent and diversity to the table.
For more information on #NotOnTheList please contact Daniel Thompson 818-665-6188. Stay connected @DanielIndustry.
Contact
Thompson Sullivan & Locke
Danny Thompson
818-665-6188
www.powerandindustry.com

Contact