Impex Associates Just Released: "An Intuitive Method to Discover and Rank Career Options"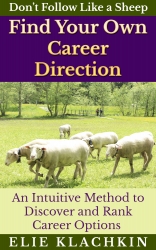 Livingston, NJ, March 18, 2015 --(
PR.com
)-- The author, who is a Career Coach at Impex Associates, struggled for years to find his most suited career direction. After spending many years in engineering, technical sales, consulting and recruiting, he needed a guide that would give him a clear direction to pursue. Not being satisfied with the obscure and inconclusive nature of the existing vocational tests, Elie set out to develop his method based on his many years of working with job seekers. It was his last attempt at changing careers, and he needed to get it right.
The result — a unique, logical, specific and effective method to find a career path, for anyone who needs to work for a living.
Readers who complete this short workbook will benefit from:
- Having full mental clarity and peace of mind regarding what they need to become
- Fully understanding the entire process and the evolution of the results
- Receiving a conclusive answer and not a listing of options
- Having a renewed sense of self-worth and motivation to pursue their goal
- Gaining a recruiter's insights on how to deal with the most common obstacles
Preview available at http://www.amazon.com/s/ref=nb_sb_noss_1?url=search-alias%3Daps&field-keywords=klachkin&sprefix=klach%2Caps
Elie Klachkin is a founder and a Creative Manager of www.resumme.com with a B.S. & M.S. in Engineering, and is a Certified Career Coach and ChiWalking / ChiRunning Instructor. He was acknowledged for pioneering the usage of multimedia in the candidate evaluation process, and his insights were included in "101 Ways to Recession Proof Your Career," published by McGraw Hill.
Contact
Impex Associates LLC.
Elie Klachkin
973-432-0528
www.resumme.com

Contact