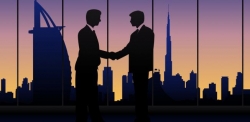 Riyadh, Saudi Arabia, March 18, 2015 --(
PR.com
)-- Edarat Group is delighted to announce the opening of its new office in Dubai UAE to enhance its presence within the Gulf region.
This new office located at Technohub Bldg. Office G 33, Dubai Silicon Oasis Nadd Hessa; Dubai- UAE, will further expand Edarat Group services for customers in one of the world's most influential market; Dubai.
The new office is the latest addition to a growing list of established locations across the region that already includes KSA, and Oman.
Because of Edarat Group important need for its services in UAE Market, Dubai represents significant opportunities for Edarat Group to drive new businesses that will support this expansion.
Edarat Group is dedicated to maintain and expand its competences and expertise across the Gulf in order to address the diverse needs of its clients.
To learn more about Edarat Group services, contact info@edaratgroup.com
About Edarat Group:
Since its foundation in 2004, Edarat Group established an irrefutable leadership position in the IT industry, offering cutting-edge Technology consulting services in the Middle East and the Gulf.
Edarat Group offers its clients the methods, consulting, assistance and expertise it can provide in advanced technologies; the capacity to marshal the multiple competences that are often needed to resolve a complex problem; and the experience accumulated over the thousands of projects that it has implemented.
Edarat Group possesses a vast range of capabilities and the ability to deliver them consistently. Within the Group's highly flexible, client-focused business approach, with its shared values, principles and management systems, all of these capabilities can be mobilized across the disciplines to deal with even the largest and most complex client situations and requirements in the region.
Edarat Group clients span many industries including public, financial, manufacturing, telecom, healthcare, retails and education and include some of the world's largest multinationals and local companies.
As part of the Group continuous effort to provide its customers with the best quality of solution and service, Edarat Group achieved ISO 9001:2008 certification for consulting, systems design & integration, project management & implementation, testing & commissioning, maintenance and support services in data center facility and technology infrastructures.