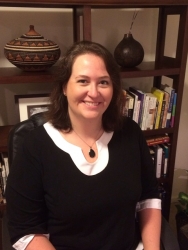 Farmingdale, NY, May 14, 2015 --(
PR.com
)-- Mary Helen Diegel has been an Educator with the Livonia Public Schools since 1997 to the present.
livoniapublicschools.org
She earned her B.A. with a Political Science major, an English minor and a Secondary Certificate in Social Sciences from Kalamazoo College. She earned her M.A. in Education at Cambridge College. She studied abroad at L'Universite de Caen, France where she undertook an intensive study of the French language, culture, history and art history. Ms. Diegel's teaching experience includes Adjunct Professor at Madonna University, Midwest Trainer, Library of Congress: Teaching with Primary Sources and Teacher at the American International School, Johannesburg, South Africa. She has numerous awards and commendations to her credit including: LPS-AISJ South African Exchange Program Participant, Livonia Educational Association Spotlight Program, 2009-10 Veterans of Foreign Wars Post 1519 Teacher of the Year and National Endowment for the Humanities Grant Recipient to name a few. Ms. Diegel is affiliated with the Association for Supervision and Curriculum Development, the National Council for Social Studies, the Michigan Council for Social Studies and the Michigan Council for History Education. Her area of expertise lies in identifying and implementing primary source materials, Formative Assessment and hands-on training for classroom teachers.
In their mission to Montrois, Haiti, Ms. Diegel and her colleagues, Joan Haber and Victoria Haber will be taking much needed supplies to the House of Hope Orphanage in that village. They will be distributing school supplies, clothes and shoes to the children there. The trio will be working in conjunction with Amy Fletcher, an Atlanta, Georgia based business woman who is the Director of the House of Hope Orphanage. "The future of Haiti lies in the hopes and dreams of the Haitian Children. It is the children who will change Haiti in the generations to come," says Joan Haber. They will also be guiding enrichment camps focusing on sports, art and dance. Early in the year, money was raised under the guidance of Mrs. Haber and Mrs. Alyssa Pakulski, by the Holmes Middle
School students, to purchase 4 goats for the Montrois Village. This was intended to supply milk and cheese to the community. The expansion of this program by Ms. Diegel and her colleagues will bring much needed supplies and necessities to these underprivileged children in Haiti. She has adopted a motto used by Nelson Mandela "Reach One. Teach One" to educate and empower South Africans during Apartheid.