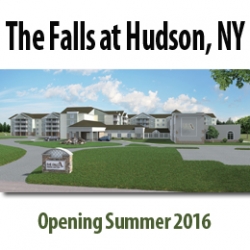 Hudson, NY, May 04, 2015 --(
PR.com
)-- Hudson, NY—Real Estate Developer JMS Construction Services, Inc. announced today plans for "The Falls," a new, upscale apartment complex near Hudson, NY.
JMS Construction Services is a developer with decades of experience in single family and multifamily home-building, renovation and apartment management. "The Falls" transforms the former Greenport School on Route 66 into a community of 116 one-, two- and three-bedroom apartments loaded with amenities, common areas and on-site management. Among the amenities within the 22 acres site will be walking trails, a dog run, a swimming pool, and outdoor tennis.
"We believe it's an unbeatable combination of urban chic and country living," said John Perri, Business Manager at JMS Construction Services. "the community will offer lots of indoor and outdoor amenities while being close to the shops, galleries and restaurants of Hudson. Add to this the fact that it's also surrounded by orchards, farms and mountains, and it really is a 'just right' environment."
The complex will retain the historic center of the school—a handsome, brick building with large windows and high ceilings. The old school building will house most of the common areas. By the end of Phase 2 development, there will be 116 apartments in two new four-story structures built by JMS Construction. JMS will deploy modern, energy-efficient technology, low-maintenance materials and outdoor spaces on every floor. Information about the project, including virtual floor plans available at
http://www.jmscollective.com/the-falls
"People move to the Hudson area for a slice of urban life, ease of travel to NYC, proximity to nature, and an attractive cost structure," said Mark Salomon, CEO. "'The Falls' delivers on all three—plus it's going to be a beautiful, gracious living space."
The Falls is expected to open its first phase in the summer of 2016.
About JMS Construction Services:
JMS Construction Services, Inc., under the umbrella of 21st Century Development, has built homes and managed apartments for over thirty years. The firm owns all of the properties it rents. It serves markets in New York Counties Westchester, Albany, Ulster, Greene, Columbia, Nassau and Suffolk; as well as locations in Southern Florida.