Laser Locators Makes Top 10 Best Places to Work in the Tampa Bay Area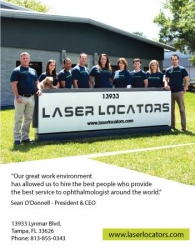 Tampa, FL, May 07, 2015 --(
PR.com
)-- Laser Locators, a world-wide leader selling ophthalmic lasers and diagnostic equipment, announced today that the Tampa Bay Business Journal ranked Laser Locators in the Top 10 for "nearly big" companies on its annual Best Place to Work list for the Tampa Bay area.
This makes the second time this year that Laser Locators has received top accolades by the Tampa Bay Business Journal. Earlier this year, Laser Locators CFO Tayra Paul, was a finalist for the CFO of the Year Award.
"Our great work environment has allowed us to truly hire the best people who provide the best service to ophthalmologist around the world. Our employees are our most important asset, and they will continue to be the single biggest driver in our continued growth and success," said Sean O'Donnell, President and CEO of Laser Locators.
"Getting recognized as a Best Place to Work is an incredible honor and evidence that our culture promotes an environment where employees feel valued and are committed to driving results for our customers," said Joey Colarulo, Managing Partner and Vice President of Sales at Laser Locators.
Founded in 2004, Laser Locators is an $8M privately held company with 11 employees and conducts business in over 100 countries around the world.
Laser Locators, headquartered in Tampa, Florida, is a world-wide leader partnering with ophthalmologists to buy and sell new or refurbished ophthalmic lasers and diagnostic equipment. For more information on the wide array of products available, go to www.laserlocators.com. To schedule a tour of our new 12,000 square foot state-of- the-art corporate headquarters, please call 813-855-0343 or 1-877-924-2020.
Contact
Laser Locators
Ronda Woble
727-488-9345
www.laserlocators.com

Contact