Announcing the State of Information Security: New Study Will be the Word on Top Trends in Finance Industry
Information Security Media Group, publisher of BankInfoSecurity.com and its sister site, CUInfosecurity.com, announces its latest endeavor, the State of Information Security 2008 – top trends, threats and priorities for financial institutions.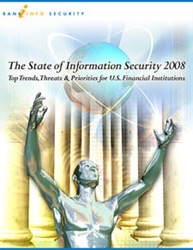 Princeton, NJ, November 27, 2007 --(
PR.com
)-- A new, web-based research study created by ISMG with the counsel of banking and security leaders from across the U.S., the State of Information Security 2008 will be the word on the top trends in the U.S. finance industry, including:
- The CISO Role
- Top Information Security Concerns
- Risk Management Strategy
- Vendor Management
- Identity Theft
- Regulatory Compliance
- Other relevant topics
The survey went live on Mon., Nov. 26. Survey results will be presented in a variety of ways across BankInfoSecurity.com and CUInsoSecurity.com, including a live webinar in which survey respondents will be invited to listen to exclusive insight and analysis.
Go to the survey landing page now:
http://www.bankinfosecurity.com/survey.php
"This is an unprecedented study," says Tom Field, Editorial Director of BankInfoSecurity.com. "At a time when interest in security and banking is at an all-time high, there's no one research source to turn to for finger-on-the-pulse information on the top security trends impacting the industry. This survey is our attempt to create that definitive source of benchmark information for banking executives."
The State of Information Security 2008 is intended to be an annual study, giving industry members and analysts insight that they can track and measure over time. Results, when available, will be analyzed and disseminated through a variety of electronic media, including whitepapers, audio interviews and webinars.
For more information on the State of Information Security 2008, please contact Tom Field, Editorial Director at tfield@bankinfosecurity.com.
About www.bankinfosecurity.com:
www.bankinfosecurity.com is your one-stop portal for the latest news, insights and education on the top information security issues facing U.S. financial institutions today. Through articles, webinars, podcasts, customized training and sponsored content, their team is committed to providing up-to-date information on the security regulations, threats, solutions, training and career trends that most impact banks, credit unions and other related enterprises. Also, please check out their companion site, www.cuinfosecurity.com
###
Contact
BankInfoSecurity.com
Linda McGlasson
609-356-1499
www.bankinfosecurity.com

Contact