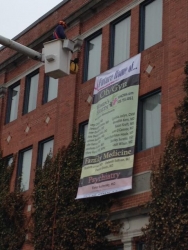 Worcester, MA, May 22, 2015 --(
PR.com
)-- To support their growing OB/GYN practice, Women's Health of Central MA will be moving its main office to a new location at 328 Shrewsbury Street in Worcester. Renovations are just beginning at the former Sealtest factory building, which will replace their current main office on Martin Luther King, Jr. Boulevard in Worcester. The MLK Boulevard office will close upon the opening of the Shrewsbury Street location, which is projected to open in early September 2015.
The practice's other three satellite locations, located in Marlborough, Webster Lake, and Summer Street in Worcester, will remain open and operating as usual. The new facility will feature onsite 3D mammography, ultrasound facilities, and a lab. To learn more about the office's move, you can visit the practice at http://www.whcma.com/category/renovations/.
About WHCMA
Women's Health of Central MA is an independent OB/GYN practice which provides state-of-the-art obstetric and gynecologic care to patients from adolescence through menopause and beyond. WHCMA offers gynecologic and obstetric services in four locations throughout Central Massachusetts and prides itself on its dedicated staff, superior patient care, and comprehensive on-site services. Their physicians are affiliated with both UMass Memorial and St. Vincent Hospital.