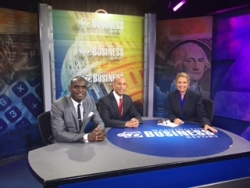 Washington, DC, May 31, 2015 --(
PR.com
)-- President and CEO of Lawrence Executive Alliance of Professionals (LEAP), LLC, and Chairman of LEAP Foundation DC, Dr. Clayton Lawrence, was invited to be a guest on the local television station WJLA's Washington Business Report on Friday, May 29th. The invitation came on the heels of Dr. Lawrence's selection as the 2015 Washington DC Chamber of Commerce's Small Business Person of the Year.
Much of the interview will be an opportunity for Dr. Lawrence to reflect on the opportunities that being a business leader within the Washington D.C. community have afforded him and his organizations. Dr. Lawrence attributes his success to what he coins as a "business-friendly city" that has provided him with "the unyielding support from individuals within the community and the community as a whole."
Dr. Lawrence states, "We're delighted by the success that we've experienced in the Washington region. Our first contract [with LEAP, LLC] was at Walter Reed Army Medical Center here in D.C. in 2008. Over the next few years, with the support of vital organizations like the D.C. Chamber of Commerce, we grew to do business in VA, MD, GA, and KY, to as far west as California. I truly believe that, without having our roots firmly planted in the D.C. community, we could not have achieved the success that we have, as quickly as we have, and at the levels that we have, and for that, I am truly humbled and grateful to be a part of this phenomenal city."
Dr. Lawrence will be honored at the D.C. Chamber of Commerce's Expo and Awards Program on Friday, June 5th, at the Washington Convention Center from 8:00 a.m. – 12:00 p.m. WJLA asked Dr. Lawrence to sum up his thoughts on this accomplishment and the many others he and his organizations received as he prepares to receive the award.
"This award is a testament and reflection of the hard work and dedication of countless individuals. I am humbled and honored to accept it on their behalf," Lawrence stated. "The Washington business region's spirit of collaboration has been vital to our success. I relish the opportunity to explore and work with other successful individuals and organizations who hear this program and would like to partner collaboratively for success."
To view Dr. Lawrence's guest appearance on the Washington Business Report in its entirety, please tune into WJLA (ABC 7) on Sunday, May 31, 2015 at 9am. To learn more about LEAP, LLC, and LEAP Foundation DC, please visit
www.leap4staffing.com
and
www.leapfoundationdc.org
.