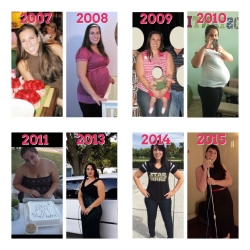 Tarpon Springs, FL, June 01, 2015 --(
PR.com
)-- According to an ancient Chinese proverb, "The journey of a thousand miles begins with a single step." But, when it comes to matters of health and fitness, that first step can seem like a monumental one.
Independent Beachbody® Coaches Sandy and George Chambers make it their mission to assist others in taking the right steps to a healthier lifestyle. Through their company, Team Epic Success, the duo will help you realize that your health, fitness and energy goals are completely attainable. They believe that everyone has the ability to live the fullest life possible, with help from a proven system.
The Chambers both understand the difficulty of living with poor health habits. After the birth of their second child, Sandy struggled with her own nutrition and fitness while simultaneously coping with an injury. She soon changed her entire life with the discovery of the Beachbody® system as her path to success. Using a combination of Beachbody® workouts and a nutrition plan that incorporates protein shakes called Shakeology®, Sandy lost 65 pounds and kept the weight off. Seeing the immense success of this system, George took action and saw his own incredible results.
The Chambers realized they could bring this positive influence to the world, and have helped nearly 130 people to date.
"These are long-term changes," Sandy explains. "It's not about crash diets and it's not just about weight loss. It's about having victories to get the energy and fulfillment back in life."
Team Epic Success and Beachbody® offer a myriad of ways to incorporate their systems into your busy schedule, including on-demand workout video streaming, personal health consulting, challenge groups that motivate members through private social media forums or just building success over time from a partnership. With an encouraging coach, you will have an ally in your journey to reaching designated health goals.
"If you think you want to make a change in your life, you absolutely can," says Sandy. "We're living proof of this advice!"
And for the month of June, every 21 Day Fix and 21 Day Fix Extreme Challenge Pack ordered through June 30th Beachbody will donate $10 to International Justice Mission up to $250,000 to help end Human Trafficking.
For more information on how to change your life with the help of Team Epic Success, or for a schedule of their free Saturday fitness classes, visit www.EpicSuccess.fit. You can reach Sandy at (727) 491-7411.
These statements have not been evaluated by the Food and Drug Administration. This product is not intended to diagnose, treat, cure, or prevent any disease.
The Pictures are of Sandy Chambers who regained control of her life by consistently setting and achieving health and fitness goals. To learn how, visit www.EpicSuccess.fit. *Results vary.