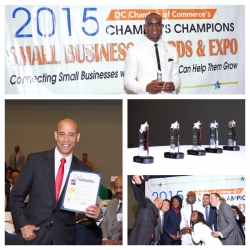 Washington, DC, June 08, 2015 --(
PR.com
)-- After receiving the award for being selected as the 2015 Washington D.C. Chamber of Commerce's Small Business Person of the Year, Dr. Clayton Lawrence took the opportunity to thank his closest supporters, the Chamber, and the Washington D.C. community. Though Dr. Lawrence and LEAP have been no strangers to recognition throughout the business world, he spoke about how humbled he was to receive such a prestigious honor and the dedication that he will continue to show as a business leader in the greater D.C. area.
"It is because of tremendous organizations like the Washington D.C. Chamber of Commerce that small business owners like myself have an opportunity to thrive and succeed," Lawrence stated. "Chamber President, Harry Wingo, has quickly shown that the Chamber continues to be an advocate for ambitious and driven individuals seeking to make Washington D.C. a better, stronger, more economically sound and truly innovative city. I am beyond humbled to be highlighted as a business leader within this community, as I know there are so many extraordinary business owners making a positive and lasting impact in this city each and every day."
Lawrence spoke of a further connection and admiration he has for Wingo, as each is a veteran of the United States Armed Forces. Wingo, a Navy Seal, and Lawrence, a military physician in the U.S. Army, both continue to be driven by a call to serve their communities and their country. "As veterans, we will always feel a call to serve others at the highest levels possible in whatever our daily roles may be," said Lawrence. "Though leading businesses is a vastly different level of service than serving your country, it has become evident in a short amount of time that Harry is leading the D.C. Chamber of Commerce with the same passion and fervor to serve and uphold the very institutions that make our cities and our nation great."
He continued, "This city has, without a doubt, embraced me and the LEAP organizations in ways that have catapulted our success. From the support of citizens, to the support of political leaders, we would not be where we are today had our roots not been firmly planted in the great city of Washington D.C. We look forward to embracing this moment as an opportunity to partner and collaborate with other businesses in D.C., and as an opportunity for LEAP to provide its services in places where they are most needed. Thank you to my friends, family, the many LEAP supporters, the great community of Washington D.C., and the D.C. Chamber of Commerce for bestowing this remarkable achievement upon me. I am truly humbled."
To learn more about Dr. Lawrence and LEAP, LLC, and LEAP Foundation DC please visit
www.leap4staffing.com
and
www.leapfoundationdc.org
.