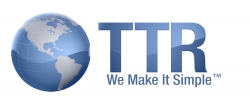 McMinnville, OR, June 12, 2015 --(
PR.com
)-- TTR, the leading supplier of tax answers to some of the largest companies in the U.S., has announced the addition of taxpayer ID number verification content to its online tax library.
Verifying and validating purchasers' taxpayer ID numbers for resale certificates can be a very time-consuming process. This process requires the filer to verify that the taxpayer ID number is in the correct format and that the taxpayer ID number itself is correct. TTR subscribers asked for help, and TTR listened.
TTR solved this problem by fully researching and adding taxpayer ID number verification content to its online tax library.
TTR subscribers can now instantly find the correct format for a purchaser's state taxpayer ID in every state, and verify specific taxpayer ID numbers through links to state websites, where available.
About TTR
Transaction (buying or selling things), Tax (the tax on this activity), Resources (our people, our website, our support services) - TTR, Inc.
TTR has a website that companies subscribe to and use daily. This website provides a list of everything that can be bought or sold in the U.S. It provides simple answers to whether buying or selling these items is taxable (subject to a sales tax or other tax), and it provides all the legal authority to support these tax answers.
TTR likes to keep things simple and fun, which is why it has great people who provide help to clients on any support questions they have about transaction tax issues.
Please visit TTR on the web at
www.ttrus.com
or call 866.578.8193.