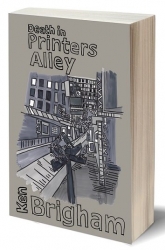 Nashville, TN, June 15, 2015 --(
PR.com
)-- Author, Ken Brigham, was born and spent most of his life in Nashville. He felt that the city that he knew and loved was different than the versions on TV and in the New York Times. He wanted you to taste the depth of the city's human passions beyond the spotlights and neon. His novel, "Death in Printers Alley," introduces Brigham's city as a principal character in a murder mystery. It is the Nashville of a decade or so ago, but the people and places are timeless. The setting of the aging nightlife area, Printers Alley, with its fecund history was deliberate. This is not Belle Meade. It isn't even Lower Broadway, the famous strip of honky-tonks that is the breeding ground for future stars. Printers Alley is every bit as real as those places but exists at the margin of the fame incubator. The Nashville of this book, the people, places, and events, tell the city's story from a different angle. Presented by Kellan Publishing.
Shane Hadley hasn't been involved in a case since a stray bullet transected his spinal cord several years earlier, but this one seeks him out. He wheels himself onto the balcony of his apartment that overlooks Printers Alley and sees Bonz Bagley lying dead in front of his club. Shane's wife, university neurologist, Katya Karpov, is doubly alarmed by the murder because Bonz was taking a new drug for Alzheimer's disease that was invented by Katya's boss and she didn't believe the results were as good as her boss claimed. Shane had never worked with Hardy Seltzer, the police detective assigned to this case, but the two of them are drawn together by coincidence. The route to the guilty parties takes them through the city and its environs and involves a cast of fascinating local and distant characters. They navigate the disquieting worlds of country music has-been's, medical center intrigue, scheming professors, shady business dealings, and pervasive amorality, eventually arriving at a shocking but undeniable conclusion.
" I really enjoyed doing this book," Brigham says. "I could draw on my memory and knowledge of the city I love while telling what I think is a very engaging story. How cool is that?"
The author will host a wine and cheese reception celebrating the book's release from 5 to 7 PM on June 20 at Zeitgeist, a Nashville gallery at 516 Hagan Street, suite 100. Parnassus Books will have copies available there. The public is invited.