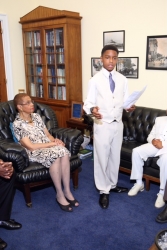 Washington, DC, June 17, 2015 --(
PR.com
)-- Established as a non-profit partner organization to Lawrence Executive Alliance of Professionals (LEAP), LLC in 2009, LEAP Foundation DC has operated with a commitment to promoting educational achievement and opportunities for minority youth throughout the greater Washington D.C. area. On Monday, June 15th, the Foundation awarded Kevin Thomas Akers with one of its $500 scholarships to support his early transition to high school at Schools Without Walls (SWW) Senior High School.
Kevin is a twelve year-old, Washington native, graduating with honors from one of the highest performing middle schools in Washington, D.C. -- Achievement Preparatory Academy Public Charter School. Recognized as a child prodigy at the age of six, when he was promoted a grade ahead of his peers, Kevin is known for his engaging personality, his enthusiasm for life, and his passion for learning. An ambitious, self-motivated, and talented young man, Kevin represented the very essence of the next generation that LEAP Foundation DC seeks to invest in to ensure a brighter future for this city, this nation, and this world.
Congresswoman Eleanor Holmes Norton joined the Foundation to honor Kevin because of her shared commitment to promoting youth education. The Congresswoman has been a longstanding and vital supporter of the Foundation in all of its efforts to ensure that young men and women in Washington D.C. have every opportunity they need to pursue educational success.
Kevin's scholarship in science, along with his strengths in performing arts and his sportsmanship as a tennis and basketball athlete, culminate to make Kevin into a modern-day renaissance man. Kevin and his family acknowledge his teachers and mentors from the Early Childhood Academy Public Charter School, Achievement Prep, the Boys and Girls Club, and the Southeast Tennis and Learning Center for embracing his extreme energy and encouraging his inquisitiveness and eagerness for knowledge, while also promoting his personal development and sense of ethics and community.
"Life is only an adventure," is Kevin's favorite quote, saying, "to be like Indiana Jones." His engaging personality has led him to captivate audiences in his creative portrayal of Malcom X on Channel 9 News, as well as his portrayal of President Barack Obama at the Kennedy Center Millennium Stage.
To learn more about LEAP Foundation DC, the event to honor Kevin Thomas Akers, and the many other programs that the Foundation offers, please visit www.leapfoundationdc.org.