Strathmore's Who's Who Honors Edward C. Kropa as Professional of the Year
Edward C. Kropa, of Marietta, Georgia, has recently been recognized as a Professional of the Year by Strathmore's Who's Who for his outstanding contributions and achievements in the field of Nonprofit Services.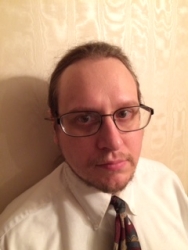 Marietta, GA, June 19, 2015 --(
PR.com
)-- About Edward C. Kropa
Edward C. Kropa earned an Associate's degree from Georgia Perimeter College and a Bachelor's degree in Exercise and Health Science from Kennesaw State University. He began his career at Children's Hospital of Atlanta at Scottish Rite. He is currently the Mail Clerk for the Social Security Administration. His volunteer experience includes assisting with Aquatics, Locomotor, Acquired Brain Injury and the Neurological Skin Unit at the Shepherd Center in Atlanta, Georgia, which specializes in rehabilitation for spinal cord injury and brain injury. Mr. Kropa was a support Group Leader for the Brain Injury Peer Visitor Association, a 501(c)(3) nonprofit organization. He has been associated with the US General Services Administration (GSA) and is currently associated with Nobis Works which provides job training, employment and vocational support for young people and adults with disabilities. His other activities include Lifeguard and Swim Instructor for the East Cobb YMCA; Intern and Assistant Coach for the Stingrays Swimming Team and Swim Instructor for the Cobb County Pools. Mr. Kropa was honored as an Eagle Scout-Senior Patrol Leader. He has Elementary Proficiency with Basic Sign Language, and Basic Proficiency with Microsoft Word, Excel and Powerpoint. He is a Certified First Aid and CPR Instructor and Water Safety Instructor. Mr.Kropa was recently honored as a 2015 Professional of the Year in Nonprofit Services by America's Registry of Outstanding Professionals.
About Strathmore's Who's Who
Strathmore's Who's Who publishes an annual two thousand page hard cover biographical registry, honoring successful individuals in the fields of Business, the Arts and Sciences, Law, Engineering and Government. Based on one's position and lifetime of accomplishments, we honor professional men and women in all academic areas and professions. Inclusion is limited to individuals who have demonstrated leadership and achievement in their occupation, industry or profession.
Contact
Strathmore Who's Who
Ann Marie Barone
516-997-2525
www.strathmore-ltd.com

Contact