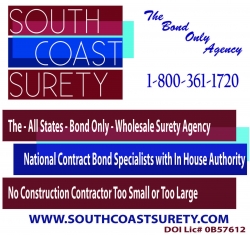 San Clemente, CA, June 25, 2015 --(
PR.com
)-- In conjunction with the National Surety Managing General Agency's 20th Anniversary, South Coast Surety sent out a survey to more than five thousand of their Retail Insurance Brokers and Direct Surety Accounts. The responses even surprised this service orientated firm.
In rating the various levels of service provided by the staff of South Coast Surety, the survey results showed that on a 1 to 5 scale each level ranked 4.3. The total ranking score for overall service was 4.5.
In responding to the questions of would they use South Coast Surety again or recommend them for their Surety Services, the average response ratio was 87% yes.
When asked for a response to such a positive survey, President Steven Swartz said: "While we see that there is always room for improvement, I am very pleased on how our brokers and customers see our staff's efforts to be second to none in providing surety support."
You can access all of South Coast Surety's bond program information on the recently remodeled website:
http://southcoastsurety.com/
South Coast Surety is one of the Largest Bond Only Agencies in the country. As a National Surety Managing General Agency, South Coast Surety provides the largest range of surety products for insurance brokers and direct accounts. They only write surety, assuring that they have the right in-house underwriting authority and surety carriers to produce the needed surety support. With said authority they are effectively a direct writer of surety with a tremendous variety of surety programs.
The large Staff at South Coast Surety are Specialists in a all surety bond types. In its Twenty Years, the firm has grown to encompass all states nationwide as well as surety bond specialties. They are now among the largest commercial and contract bond surety producing agencies in the U.S.