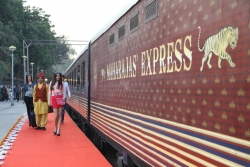 Los Angeles, CA, June 27, 2015 --(
PR.com
)-- A golden opportunity to become a part of India's glorious ever changing history with a journey like no other. Indian Holiday Private Limited (IHPL) presents Maharajas' Express in a very special departure on 23rd of September 2015. This exclusive departure will cover the Golden Triangle of Delhi, Agra and Jaipur along with Ajmer, a city renowned for the tomb of Sufi saint Moinuddin Chishti.
Maharajas' Express, voted Leading Luxury Train in the World for 3 years in a row, is an initiative of Indian Railways Catering and Tourism Corporation (IRCTC). IHPL has tied up with IRCTC to run this special departure on 23rd of September.
This special departure by
IHPL
presents a golden opportunity for the discerning travelers who nurture a dream to travel on board World's Leading Luxury Train but were deterred by the steep tariff of
Maharajas' Express
which starts from USD 3850.
With this exclusive offer, IHPL will offer a reduced tariff of 3550 which is close to 8% less than the normal fare of the train. Besides, IHPL has also announced early bird discount of 5% or more to all the bookings made before 5th of July.
"We receive quite a few numbers of inquiries from our clients who wished to travel on board Maharajas' Express but had to cancel their plan due to the high cost involved in travelling," said Mr. Rahul Sharma, Managing Director of IHPL. "We saw this opportunity and chartered the train so that our clients who were deterred by the tariff could get a chance to experience the most luxurious rail ride in the word and rediscover the romance of a bygone era," he added.
Travelling on board Maharajas' Express is probably the most luxurious mode to experience the best of India in shortest possible time. For the high fliers who don't have much time up their sleeve, this train journey offers the only way to discover the cultural heritage of India without compromising on luxury and refinement.
Maharajas' Express is praised by tourists from all around the world for its on board facilities & marvelous destinations. This Indian luxury train is arguably the most stylish and luxurious venue in India for business incentive groups, cultural interactions and private family gatherings.
Some of the en-suite amenities in each accommodation type include individual climate control, RFID door locks, fire alarm, electronic safe, live television with DVD players and attached washroom among others. The only one of its kind Presidential Suite of the Maharajas' Express spans over en entire carriage and features a double bed and a twin bed bedroom. Redefining luxury in trains, the washroom of Presidential Suite has been fitted with a bathtub.
The exclusive features of the train include elegant interiors, gold plated cutlery, mirror mosaic, gleaming crystal work and hand painted ceilings, fine fabric, and polished woods. Round the clock butlers, modern facilities and impeccable hospitality offered on board are reminiscent of the days of Indian maharajahs who used to travel in their own personal carriages through the length and breadth of their kingdoms.
The special departure will feature some of the best UNESCO World Heritage Sites in India including one of the Seven Wonders of the World, Taj Mahal along with Agra Fort, Jantar Mantar (Royal Observatory) in Jaipur and Ranthambore Fort located inside one of the best National Parks in India. The tour will also entail visits to some of the most imposing forts & palaces built by Rajputana warrior princes of Rajasthan as well as Mughal rulers.
Rediscover the romance of elegant train travel and step back into a more urbane age and savor the gentler pace of life. For more information on this special departure of Maharajas' Express train, visit
www.maharajas-express-india.com/offer/