Top Scot is Youngest in Asian Power List
A Scottish entrepreneur scholar has been named as the youngest person on the elite Carter Anderson Asian Power 100 list.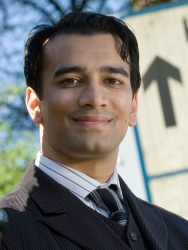 London, United Kingdom, December 02, 2007 --(
PR.com
)-- Scotland's Asians are celebrating after a Glasgow-born multi-millionaire was named as the youngest member of an elite list of the 100 most influential British Asians. The Bank of Scotland Asian Power 100 produced by Carter Andersen will honour Azeem Ibrahim, 31, on Thursday 29th November 2007 at a glittering gala dinner at London's Riverbank Park Plaza.
The list, created from 17,000 nominations, recognises those whose exceptional work makes an enormous and essential contribution to the wealth, health and intellectual wellbeing of Britain. Azeem, with an estimated fortune of US$106m, has already made this year's Sunday Times Scots Rich List and the prestigious Observer Courvoisier Future 500 - a definitive list of the most forward thinking and brightest young innovators in the country.
Azeem has been described as a brilliant young scholar, financial wizard and gifted entrepreneur by his peers. He began accumulating wealth with the launch of his own insurance corporation, which caters for the maritime and transportation market. He later set up the European Commerce and Mercantile (ECM) Bank, a private online bank specialising in commodity trading.
ECM Bank's parent company, ECM Holdings, also includes ECM Asset Management, a Swedish-registered credit union, and ECM Clearing House, a Panamanian-registered company licensed in currency, precious metal and commodity trading.
Azeem is currently launching a hedge fund, ECM Investment Fund, which has attracted serious interest from some of the Royal families in the Gulf. He is also setting up the Abraham Foundation, which will have a six-figure endowment to fund non-profit community projects. Applications will be invited from the public in a Dragon's Den-style process in which Azeem and his partners will assess proposals.
The move is an expansion of his extensive charity interests that include The Benevolence Fund, which educates Bosnian students in Europe before returning them to Bosnia equipped with new skills. Azeem has also established Purifi, a water-purification concern for the Sudan, and a marriage-counselling charity in Glasgow, Unity Family Services.
"I am honoured to be represented in this list," said Azeem. "I'm also delighted to see so many Asians contributing so positively to the wealth and wellbeing of this country - Asians currently bring around £103 billion a year to the economy and I'm proud to be part of that. I'm also heartened to see so many high-achievers so keen to put something back into their communities through charitable projects."
Some of the Asian Power 100 have become household names thanks to their campaigns against injustice and human rights abuses; among them are Liberty's Shami Chakrabarti and Amnesty's Irene Khan – both of them came to head top human rights organizations just prior to 9/11. In business we have the founder of Lornamead George Jatania and one of the richest men in the world Lakshmi Mittal. All these men and women have one thing in common: they are Asian, British and highly influential in their field.
###
Contact
UK Media Group
Charlotte Boseley
08453370849
www.uk-mediagroup.com

Contact