Web Site Offers Holiday "Gifts of Livelihood" for Aspiring "Well-Fed Writers" on Gift-Givers Shopping List
Writers always like books as holiday gifts, but one web site goes a step further by offering holiday gift packages featuring award-winning books that help writers make a handsome living with their pen – either as a freelance writer or a self-publishing author. Autographed books, no-charge USPS Priority Mail shipping, and ebook bonus are included with all orders.
Atlanta, GA, December 03, 2007 --(
PR.com
)-- Everyone knows an aspiring writer, someone with dreams of making a handsome living with their pen. But, wait. Aren't the words "starving" and "writer" forever joined at the hip? Not necessarily, according to a web site (http://www.wellfedwriter.com/holidaybuffet.shtml) offering "the gift of livelihood": special holiday book packages for that writer dreaming of being "well-fed" – either as a freelance writer or a self-publishing author.
Says Peter Bowerman, author of the three award-winning Well-Fed titles on which the site is based, "When it comes to holiday gift-giving, writers always love books, but what they like even more are the tools to financially thrive as a freelancer or author. The packages offered through The Well-Fed Holiday Buffet combine both – making them the very definition of the proverbial 'gift that keeps on giving' for years to come."
The Well-Fed Writer and its companion volume TWFW: Back For Seconds (www.wellfedwriter.com), chronicle Bowerman's firsthand experience building a "commercial" freelancing practice – writing for businesses, and for hourly rates of $50 to $125+ an hour. Freelance writing guru, Bob Bly, author of 60-plus books on the subject, called The Well-Fed Writer, "the best information on how to make more money with corporate clients I have ever read."
After successfully self-publishing those two books (i.e., 52,000 copies in print and a full-time living for five-plus years), Bowerman showcased exactly how he did it in The Well-Fed Self-Publisher: How To Turn One Book into a Full-Time Living, winner of several awards, including a prestigious IPPY award from Independent Publisher magazine. Dan Poynter, known as the "Godfather of Self-Publishing," and the author of 120 books, said of TWFSP, "This comprehensive reference covers all the bases, and does it with humor and a personal touch."
The holiday promotion, which runs through December 31, 2007, offers several tasty twists: 1) autographed books and complimentary USPS Priority Mail shipping on all orders placed by 6 p.m. EST, December 21, 2007; 2) complimentary ebook bonus on all orders (instant download after purchase); and 3) special value-priced "One For Them, One For Me" packages that combine either a hard copy book with its ebook version, or two hard copies.
Says Bowerman, "With the One For Them, One For Me" packages, I wanted to create gifts that benefited both the giver and the "givee" – and for a healthy discount over purchasing the items separately. Add in Priority Mail shipping and signed books, and I can make two people happy, while steering them down a more promising financial path as writers and authors."
###
Contact
Fanove Publishing
Peter Bowerman
770-438-7200
wellfedwriter.com

Contact
Multimedia
Front cover of award-winning how-to guide to profitably self-publishing your own book, keeping control of the process, timetable, rights and most of the money.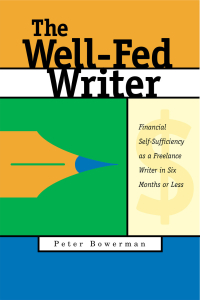 Front cover of the award-winning how-to guide to launching your own lucrative commercial freelancing practice - writing for businesses and for hourly rates of $50 to $125+.