AlgoTrades.net Announces New Fully-Automated Quantitative Trading Systems
Automated trading system provider releases new and improved systems for both intraday traders and investors.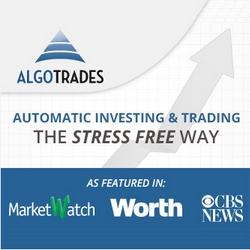 Collingwood, Canada, August 04, 2015 --(
PR.com
)-- Beginning September 1st, 2015, AlgoTrades.net will make its newest, highly anticipated, algorithmic
trading systems
available for "Live Trading" for all AlgoTrades Subscribers.
AlgoTrades.net, a Collingwood, Ontario, Canada company, announced today that it will begin offering limited enrollment into its newest fully-automated algorithmic E-Mini S&P trading systems. These new trading systems represent the combined development and testing spanning thousands of hours to create a truly dynamic solution for their subscribers.
Chris Vermeulen, Founder of AlgoTrades.net stated, "I believe we are on the cusp of a tremendous opportunity within the markets and AlgoTrades is uniquely positioned to assist our subscribers with advanced trading technology. Our trading systems combine our proprietary momentum, trend, and proven price rotation trading strategies. This combination delivers an immense advantage to our users by developing profitable opportunities in any market trend."
AlgoTrades.net is releasing two enrollment versions of these new trading systems for limited subscriptions to qualified traders.
- AlgoTrades Intraday S10 Strategy (E-Mini S&P : ES)
- AlgoTrades Investor D30 Strategy (E-Mini S&P : ES)
AlgoTrades.net will likely release additional trading systems within different market segments in the near future.
Chris Vermeulen added, "Almost every trading day, the markets provide opportunities for profits for our users. We are excited to be able to bring our best technology to the forefront of this marketplace and to be able to continue to push the envelope in regards to making these types of advanced trading systems available to average traders. Our objective is to build AlgoTrades.net into the premier solution for effective, high-performance automated trading solutions."
Included within this enrollment offer are special bonus gifts.
- Weekly Market Video Analysis and Trade Forecast
- Free Lifetime access to INNER-Investors Monthly
- Chris Vermeulen's Book - Seven Steps To Win With Logic
The new AlgoTrades Systems versions will go live on September 1st, 2015 for all subscribers. Please visit www.AlgoTrades.net for more information, email: Info@AlgoTrades.net, or call (844) 692-5468 for any questions.
Contact
AlgoTrades Systems
Chris Vermeulen
1-844-692-5468
www.AlgoTrades.net

Contact
Multimedia
Find out what AlgoTrade clients are saying and how their systems will trade directly in your brokerage account.