UBZ2.com Your Schedules
We have designed UBZ2 to be the Nassau traffic cop for a network of 50 Sports and Activity Scheduling Portals. Here a member can enter their own practice and game schedules, enter team stats, score results etc., get easy directions to Playing Fields or Activity Locations, provide protected contact numbers and email lists, get relevant information on their team sport or activity, Blog, create and contribute to Forums, get news on activity, buy, or sell good activity products through classifieds.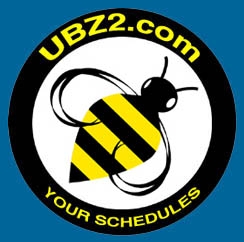 Boston, MA, February 09, 2006 --(
PR.com
)-- Little known, privately held UBZ2.COM readies for launch. UBZ2.COM is comprised of more that 100 URLs dealing with sports team management, communication and schedules. UBZ2.COM is the Nassau Traffic Cop for what is planned to be 50-60 Scheduling Portals. They are launching with 13 "Team Sports Portals" where a coach, team manager or parent can manage their team with wins and losses, stats, contacts and more. A coach may even create forums, newsletters, and even polls. UBZ2.COM is comprised of members. At sign-up, or any other time, there are assigned "publishing" privileges.
To promote UBZ2's Team Management Service they have employed Direct Access Search (DAS), where as they have strategically selected domain names since the early 90s. DAS is regarded by SEO experts as the most instinctual and ultimately the purest form of search. Users type the site URL in directly. This is why Fox Media Services the company's parent believes that they will have 200,000 page views per month at onset. Increasing from there. They have reserved domains 5 and 10 years out on their growing portfolio of choice DAS Domain Names that they are meshing into a shared resource network of portals and web sites.
UBZ2 has a huge market for their offering. UBZ2's Self Aggregating Content and comprehensive list of services are FREE to its members. Joe Fox, Fox Media Services' Founder and industry veteran states "it a crazy pricing module that favors our members", because it is free. At UBZ2 or at one of its family of schedule portals, like LACROSSESCHEDULES.COM, a member can request publishing privileges. Becoming a member allows a coach, parent or team manager the ability to completely manage their sport or activity team. They may create or participate in Forums, Blogs, Announcements and Newsletters, and much more. It is a great communication tool. Fox Media Services has spent a year readying for the UBZ2 launch. Fox say "we wanted it to be easy for members".
When asked how UBZ2.COM is supported, Joe Fox Stated "we want to go Direct Response Sales, as we have specialized in DR for the last 12 years." We have invested so much into this because we believe we can turn page views into sales". For now they have an impressive list of affiliates that pay commissions, for an easy launch. UBZ2.COM does have one "paid" custom tool called "Coaches Announcement". It is powered by YouSpeak Technology, where a coach can use any phone to record audio that tags directly to the members spot on the team's portal, in UBZ2. All this is done instantly and Fox, contends, "is a Godsend to parents". They have priced it so most Coaches and League Managers will order.
Their plan calls for rolling out other audio services for their "Personals" section in the UBZ2 Classified Ads area. Fox Media Services has hundreds of Direct Access Searchable Domain Names, ensuring wide viewing. The Internet Network that they provide, share traffic and resources. All UBZ2 portals and sites are in keeping with a PG13 content ceiling. They will be seeking Private Equity Funding, and inquiries are invited.
###
Contact
Fox Media Services
Joe Fox
508-655-5665
www.foxmediaservices.com
joe@foxmediaservices.com
www.contentperson.com
www.sitewatchdog.info

Contact