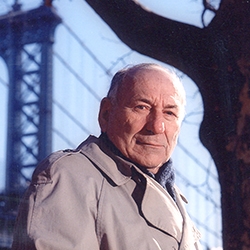 New York, NY, August 04, 2015 --(
PR.com
)-- Herbert Rothman, 91, of Syosset, New York, passed away on Sunday, July 26, 2015, as a result of injuries sustained in an automobile accident. A graduate of Rensselaer Polytechnic Institute and principal of Weidlinger Associates since 1977, he was highly regarded in the civil engineering community as a foremost expert on suspension bridge cables and design analysis. He consulted on most of the major bridges in the New York metropolitan area, the mid-Atlantic area, and, most recently, the San Francisco-Oakland Bay Bridge.
As a practicing engineer for 68 years, Rothman launched the firm's Transportation Group, which became known for innovative bridge designs and construction methods and for life-extending reconstructions of historic suspension bridges. He led bridge-stiffening and rehabilitation design for the Manhattan Bridge, seismic investigation of the George Washington Bridge, and numerous other projects at both long-span suspension bridges and many medium- and short-span structures. He was a key contributor in the design of the new San Francisco-Oakland Bay Bridge's east span, the world's longest self-anchored suspension span.
"It goes without saying that Herb's accomplishments rank him as one of the greatest bridge designers of his era," said Raymond Daddazio, Weidlinger president and CEO. "When you look at his accomplishments, especially reflecting on his last work, which was the new design of the replacement for the East Span of the San Francisco-Oakland Bay Bridge, resulting in the world's longest self-anchored suspension span, it conjures up images of Michelangelo's Last Judgment or Verdi's Othello—that is, masterpieces accomplished when most people would be retired. Perhaps more important is the mentorship that he provided to a generation of engineers, inspiring them in what it takes to be a good engineer and honorable person."
His many industry accolades included noteworthy awards such as the John A. Roebling Medal from the Engineers' Society of Western Pennsylvania. He was also named "Bridge Engineer of the Year" by the Institute for Bridge Integrity and Safety. In 1990, Rothman was elected to the National Academy of Engineering for "outstanding contributions to the design and rehabilitation of hundreds of bridges of all types and for exceptional contributions to the understanding of wind effects on complex structures."
Weidlinger Associates, Inc., is a structural engineering firm that designs and rehabilitates buildings, bridges, and infrastructure and provides special services in applied science, forensics, and physical security. The firm, which employs about 275 full-time staff, celebrated its 65th year in 2014. It is recognized worldwide for its innovative and practical design solutions and for its long-term commitment to advancing the state of the art in engineering. Headquartered in New York City, the firm has branch offices in the United States and the United Kingdom. For more information, please see www.wai.com.