Harris Marketing Group, Inc. Has Teamed Up with Ty Coughlin's Reverse Funnel System to Deter Away from "Traditional" Style Network Marketing
George D. Harris, President and CEO of Harris Marketing Group, Inc., recently looked at the features that the Reverse Funnel System has to offer.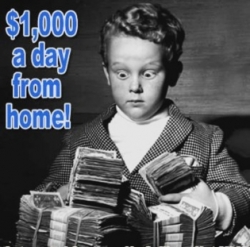 Granite Falls, NC, December 05, 2007 --(
PR.com
)-- This system is proving to be the go-to system for sorting leads into highly qualified prospects and then further increasing online sales automatically. It appears that although top network markets are swiftly moving over to use the Reverse Funnel System first, anybody can plug into it and raise the level of their income, even newbies.
Harris, said, "The Reverse Funnel System combines Network Marketing with the power of Internet Marketing. We no longer have to cold call prospects, chase dead-end leads, spend themselves broke on advertising campaigns or even hound people about building true financial freedom for themselves. This system weeds everybody out and leaves users with highly motivated, truly qualified leads."
He further added, "This system has been carefully designed so people can plug into it with absolutely no experience at all and still make big money right out of the gate."
The sheer power behind the Reverse Funnel System, comes from its solid foundation and step by step filtering process. Systems that work are the backbone to success for many highly coveted industry leaders.
Harris states, "We are up to $20k per month consistently after just a few months and we are training our team members to use the same methods. This truly is turning out to be very duplicatable."
The Reverse Funnel System is a funded proposal method which supplements advertising dollars by giving users upfront cash in their pocket. It weeds leads out through a series of proven steps and turns them into qualified prospects without user interaction. When the prospect becomes properly qualified, the system will move them on to the next step in the process and convert them into buyers.
Harris stated, "The system is designed to help everyone succeed, no matter what their background, education or experience may be. Everyone that uses the Reverse Funnel System has an equal shot at becoming a success story. The goal is to have all system users up to $20,000 a month in residual income within their first 60-90 days."
Harris added, "No longer are we calling 200 leads, one-at-a-time to find the 4-5 that are ready, willing, and able. We don't get hung up on anymore. 10-12 hour days are now over with. Now we throw those same 200 leads into the Reverse Funnel System and we sit back and let them self-eliminate themselves. The "cream" rises to the top, per say. The sales come thru almost automatically."
Reverse Funnel System users are granted access to live training calls hosted by the Inner Circle Mentors. The Inner Circle mentors are comprised of Multi-Multi Millionaires and Billionaires that have all united to help their students in every aspect of their lives.
Harris affirmed, "This is simply a different way of doing things, about 400 times more efficiently and failure-proof than anything previously done before."
More information on the Reverse Funnel System can be found at:
http://www.TheWayToYourFirstMillion.com
George D. Harris, President & CEO
Harris Marketing Group, Inc.
1-828-396-3117
Inner Circle: "Making your dreams come true"
###
Contact
Harris Marketing Group, Inc.
George D. Harris
828-396-3117
www.TheWayToYourFirstMillion.com

Contact