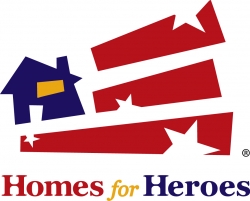 Minneapolis, MN, August 06, 2015 --(
PR.com
)-- Homes for Heroes is bringing in affiliates from all over the country to the city that inspired the inception of the program, New York City, NY. Inspired by the tragic events of 9/11, Homes for Heroes gives back and says Thank You to law enforcement, firefighters, EMS, military, teachers and healthcare workers by providing substantial savings and discounts when they are buying, selling or refinancing a home.
"We all remember where we were that day when we heard the news. Seeing those first responders drop everything going on in their lives to come help those here in New York was a moment that I'll never forget. We couldn't be happier to have New York City be where we all come together as a team to figure out how we can help more of those everyday heroes," says Abby Waltz, National Director of Homes for Heroes.
Homes for Heroes Realtors and Lenders will come together on August 7th, 2015 at Morton's Steakhouse, World Trade Center. The day will be packed with training from Waltz and #1 Realtor Affiliate in the country, Lisa Scales, to help affiliates reach more heroes in their local communities.
In addition to providing savings to help offset the closings costs, Homes for Heroes Affiliates also donate a portion of every home purchased or sold through the program to the Homes for Heroes Foundation. The Homes for Heroes Foundation is a non-profit 501(c)(3) charity established to help heroes in dire need. So when a hero uses the Homes for Heroes program, they are helping fellow heroes that are in need.
Homes for Heroes: https://www.homesforheroes.com/
Homes for Heroes Foundation: http://www.homesforheroesfoundation.org/
Homes for Heroes The Nation's Largest Hero Savings Program, offers savings and rebates to firefighters, law enforcement, emergency medical technicians, military (active and veterans), healthcare workers and teachers when they buy, sell or refinance a home. The program was created after the tragic events of 9/11 as a forever "Thank you" to the men and women who have given so much. As of May 2015, Homes for Heroes has given back over $10 million to our countries heroes and helped more than 6,000 heroes and their families.