BlackJack Handsfree Converts Radio Into an Affordable Handsfree Car Kit
The BlackJack Handsfree Device has just been launched and provides an affordable solution to drivers looking for a handsfree car kit with no installation, wires, or Bluetooth. Also provides music streaming capabilities for compatible phones directly to the car radio, an industry first.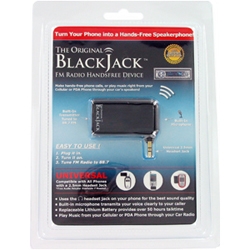 Huntington Beach, CA, December 06, 2007 --(
PR.com
)-- BlackJack Handsfree Corp. announced today the availability of the BlackJack Handsfree device, a compact solution that plugs into almost any cell phone for handsfree mobile conversations in the car, home or office.
The compact device plugs into the 2.5mm headset jack of any cell phone and uses the phone's audio in/out for superior handsfree sound quality. The user's voice is transmitted through the device's built-in, high clarity microphone and the other party's voice is transmitted through the radio's speakers. Consequently, no headset is required for handsfree calling.
To operate BlackJack Handsfree, the user simply plugs the device into a cell phone headset jack, turns it on, then tunes a nearby radio to 88.7 FM and places or answers a call. For cell phones that do not use a 2.5mm headset jack, BlackJack Handsfree Corp. provides an audio adapter free of charge with proof of purchase.
"BlackJack HandsFree is an easy and affordable alternative to Bluetooth and other handsfree solutions, such as speakerphones and handsfree car kits," said Ana Price, spokesperson for BlackJack Handsfree Corp.
BlackJack Handsfree was specifically designed for use in the car to enable drivers to adhere to laws related to the use of cell phones while driving. "It's the ideal travel companion for busy mobile lifestyles," said Price.
BlackJack Handsfree is easy to use and requires no installation, set up or pairing. It is compatible with any Bluetooth or non-Bluetooth cell phone and is powered by a replaceable lithium battery that provides up to approximately 50 hours of talk time.
The manufacturer's suggested retail price for BlackJack Handsfree is $59.95. It is currently available at cellularaccessory.com, aftermarketcellular.com, ocwireless.com, gothandsfree.com, cellular-store.com, cellularaccessory.net, daviscommwireless.com, getyourtech.com, netfreez.com, 1800mobiles.com and discountcellularsupply.com. The most up-to-date information about product availability, including retail locations, can be found at blackjackhandsfree.com.
About BlackJack Handsfree Corp.
BlackJack Handsfree Corp. is a privately held company incorporated in Huntington Beach, California. More information about BlackJack Handfree is available at www.blackjackhandsfree.com.
###
Editorial contact:
Ana Price
McCullough Communications & Marketing
949-833-1135
ap@mcculloughmarcom.com
Contact
BlackJack Handsfree Corp.
Ana Price
1-949-833-1135
www.blackjackhandsfree.com
McCullough Communications & Marketing

Contact