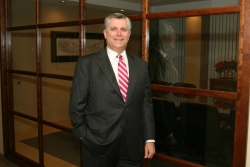 Melville, NY, September 09, 2015 --(
PR.com
)-- Melville, NY-based commercial real estate law and business litigation law firm, Harras Bloom & Archer, LLP, announces Paul Bloom, a founding partner of Harras Bloom & Archer, LLP, a boutique real estate and business law firm serving New York City and Long Island will be honored in an upcoming ceremony to benefit the Holocaust Memorial and Tolerance Center of Nassau County. Mr. Bloom is being presented with the Community Leader Award at the 23rd Annual Tribute Dinner for the Center being held on Thursday, September 10th.
The Annual Tribute Dinner of the Holocaust Center is held to recognize individuals who personify its mission: "to teach the history of the Holocaust and its lessons through education and community outreach...promot[ing] resistance to prejudice and ... respect for every human being." Paul Bloom is honored to receive this recognition.
About Paul J. Bloom, ESQ.
Paul Bloom is widely recognized for the passion and commitment he brings to all of his endeavors- public and private. In addition to his community and charitable endeavors, he has over 40 years of experience representing developers, investors and both national and local entities in a wide range of real estate-related matters.
In addition to being a founding partner of Harras Bloom & Archer, LLP, Bloom has also been elected and appointed to a variety of positions in municipal government and given his time to serve on the boards of numerous charitable and religious organizations. A devoted husband, father of three sons and grandfather of five grandsons, Paul Bloom spends what free time he has traveling extensively with his wife, Monika.
About Harras Bloom & Archer, LLP
Throughout the New York metropolitan area and Long Island, the attorneys of Harras Bloom & Archer, LLP handle a wide range of real estate law, real estate litigation, land use and zoning and business litigation matters.
Comprehensive knowledge of legal issues and relentless commitment to each client's goals are the firm's top priorities. To deliver strong, favorable results, Harras Bloom & Archer works directly with each client, providing:
• Attorneys who speak the language of business and real estate
• Confidence in litigation and negotiation
• Skill in working with government agencies and municipal boards
• Experience in the development of several notable, successful projects throughout Long Island
There are many stages to any business and real estate endeavor, and each stage requires a thorough understanding and consideration for legal issues. Harras Bloom & Archer LLP handles matters from start to finish and can enter into the project at any stage, whether helping with initial planning of a project, addressing denied zoning grants, assessing the environmental impact of a project or litigating a dispute.
The firm handles legal matters for a diverse clientele, including well-financed entrepreneurs, real estate brokers, real estate developers, national retail chains, entertainment companies and other key stakeholders in such endeavors. This could include small business owners as well as large developers of residential and commercial real estate.
The lawyers of
Harras Bloom & Archer LLP
practice in state and federal courts throughout New York.
Harras Bloom & Archer LLP is known for providing sophisticated legal representation to sophisticated clients serving Nassau County, Suffolk County, Queens County, New York City and surrounding areas.