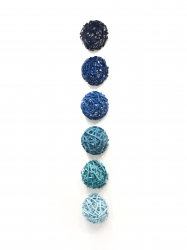 Houston, TX, September 19, 2015 --(
PR.com
)-- Matt Devine & James Verbicky: UNDONE
Acclaimed Houston gallery, Laura Rathe Fine Art, announces the exhibition of two contemporary artists, Matt Devine and James Verbicky, in the show, "UNDONE" with an opening reception on Saturday, October 24th, from 6 - 9pm at the Colquitt location.
As a pair, these artists combine disparate elements to create singular unified forms. Devine utilizes repeated metal shapes to construct dramatic geometric structures, while Verbicky composes recognized symbols of advertising in a grid-like format. Both artists' works are concerned with repetition, geometry, color, and materiality.
The "UNDONE" collection will be on display through November 28, 2015.
About The Artists
California artist, Matt Devine works primarily in metal, creating nonrepresentational, minimalist sculptures. A self-taught artist, he began honing his craft in 1995 and became a full-time sculptor in 2001. With repetition of form and line his work evokes simplicity and weightlessness although steel, aluminum or bronze.
Devine is represented by important galleries throughout the United States and he is included in many collections from Los Angeles to New York and abroad. He has designed and fabricated large-scale public works on view in prominent urban locations.
James Verbicky is a Canadian-born artist, now also living in California. In 2010, Verbicky debuted his media paintings, mixed media works that stimulate the viewer with both content and texture. The three dimensional surfaces transcend traditional painting and venture into the realm of sculpture. By utilizing vintage media and graphics, advertisements, and obsolete branding materials, Verbicky presents us with the result of decades of attempts to persuade, manipulate, and coerce through subtle and suggestive imagery.
Verbicky original works are counted in thousands of important private, public, celebrity and museum collections in countries all over the world. He collaborates frequently with philanthropic organizations, using his artwork to contribute to nonprofits like the Waterkeeper Alliance and the Art of Elysium.
About Laura Rathe Fine Art
With over 25 years of experience in the art industry, gallery owner, Laura Rathe, started her career working as a private art dealer. She then established the Laura Rathe Fine Art gallery in 1998 in Houston, Texas, located in Upper Kirby on Colquitt Street on Gallery Row. In February 2013, the gallery expanded and opened a second location in Dallas on Dragon Street, the city's premiere arts district destination. This September, LRFA will expand to the heart of Uptown Houston with a third location on Post Oak.
Since the gallery's inception, Laura Rathe Fine Art has become reputable for representing and featuring established, mid-career contemporary artists, many of whom have been acquired into world-renowned private, corporate and museum collections. Various clientele and collections include BBVA Compass, HKS Architects Headquarters, CBRE, Wells Fargo, W Hotels, UTSW Hospital and Halliburton.
For additional information, details or to schedule an interview, please contact 713.527.7700.
Laura Rathe, Owner Laura@LauraRathe.com
Hannah Reuter, Director Hannah@LauraRathe.com
Casey Baden, Associate Director Casey@LauraRathe.com
Houston Gallery Row
2707 Colquitt St.
Houston, TX 77098