Ohio Businessman to Bring United Soccer League (USL) to Cincinnati
Stephen L Hightower and Partners Have Acquired American Football Club FC Cincinnati, The USL's 26th Franchise, to Begin Play in Downtown's Nippert Stadium in 2016.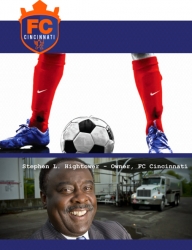 Middletown, OH, September 21, 2015 --(
PR.com
)-- Stephen L Hightower, President and CEO of Hightowers Petroleum Co., based out of Middletown, OH has partnered with Carl Linder III and family (American Financial Group), George Joseph (Joseph Automotive Group), Jack Wyant (Blue Chip Venture Company), and Scott Farmer (Cintas) to form FC Cincinnati's new ownership.
"One of the benefits of getting in early, with an emerging sports industry in America, is that the risk are high but the rewards can be enormous. It may be years before we realize the success of a Major League Soccer team, but I put my money on the best possible team to make it happen."
-Stephen L Hightower – Partner, FC Cincinnati
FC Cincinnati's executive team will consist of Jeff Berding (Former Cincinnati Bengals Executive) who will serve as President & General Manager alongside Gary De Jesus (Procter & Gamble brand manager), who has been hired as Executive Vice President, Operations & Marketing. John Harkes has been hired as its head coach. As a player Harkes is a two-time World Cup participant and MLS Cup winner; in addition, he is the first American to play in the English Premier League. Most recently Harkes has served as a television color-commentator for MLS and World Cup matches. Harkes and team management are currently in the process of building its 2016 team and roster.
Cincinnati has a long tradition of support for athletics and soccer at both the youth and collegiate level. According to
www.USLSoccer.com
, there are over 55,000 registered youth soccer players in Cincinnati, and the directors of the region's four largest youth soccer clubs (Cincinnati United, Kings Hammer, Ohio Elite and Total Futbol Academy) are to sit on the FC Cincinnati Advisory Board. FC Cincinnati hopes that the same passion and support will be applied to its new professional team.
With 24 clubs in the 2015 season, the USL has strategically expanded with strong ownership groups that share the league's passion and vision, and in markets that are positioned for long-term success. Don Garber (Commissioner of MLS) recently went on record stating that he feels as though American Soccer is on the right path to make it the competition of choice for footballers and fans across the globe; matching that of the Premier League, La Liga and Serie A.
For more information about FC Cincinnati and season tickets, visit
www.fccincinnati.com
.
Stephen L Hightower has been a leader in the energy sector for over 30 years. As President & CEO of Hightowers Petroleum Co., he has built the company into one of the largest and most successful downstream petroleum marketers in the United States; servicing Fortune 500 customers including General Motors Company, Ford Motor Company, Kroger Company, Federal Express, Duke Energy and AK Steel among others. Additionally, he is principle owner of Hi-Mark Construction Group and HP Energy, a developer of energy efficiency projects.
Through the leadership of Stephen L. Hightower, Hightower Family corporations continue to provide its customers with unique processes; in addition has built a supply chain that "Exceeds Expectations" while "Fueling America's Energy Needs" one customer at a time!
Contact
Connect Central
Tva Parks
1-702-816-2700

Contact