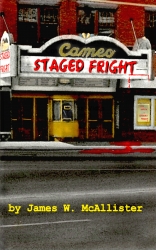 Marcellus, NY, September 23, 2015 --(
PR.com
)-- Fortiter Publishing is pleased to announce the release of a new John Martin adventure, "Staged Fright" on September 23rd 2015.
This novelette by James W. McAllister chronicles the adventures of our favorite New York City Police detective as he tracks a killer across The Big Apple. But solving this case may cost John everything he loves.
NYPD Detective John Martin is an average cop.
He loves the Medical examiner.
He's married to her.
He can't please his boss.
His partner, Po Holloway, is his best friend.
Criminals hate him.
Pretty average. But then again...
He finds he has a gift.
Lieutenant John Martin saw this crime. But only when he got to the crime scene, and only after it had happened. He and his partner try to decide if they should trust these 'visions' or not.
When the killer targets Po's rock-star ittle sister, everything changes.
Set two years before "Rods," "Staged Fright" chronicles the price John Martin pays for his paranormal gift.
"Staged Fright" is available in Kindle and Paperback editions on http://fortiterpublishing.com/STAGED_FRIGHT.html powered by Amazon.