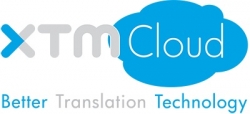 London, United Kingdom, October 09, 2015 --(
PR.com
)-- XTM International introduces the new XTM Cloud 9.0.
www.xtm-intl.com/9
Next generation of the best all in one solution.
XTM International today announced the release of XTM Cloud 9.0, the next generation of the award winning globalization platform for enterprises and agencies.
XTM Cloud v9.0 introduces more than 25 major new features and improvements including customisable Dashboards for project managers, enabling intuitive new ways of displaying management overviews of projects.
Managing projects involving post MT editing is now much easier with the ability to record the time spent on tasks in the localization workflow in 4 alternative ways. XTM Cloud 9.0 also features a new powerful Visual Editor - a brand new environment for HTML and XML files that enables the user to translate in WYSIWYG mode, speeding up and improving the translation by displaying the text in context.
The new release of the XTM Cloud gives customers around the world instant access to many new features. "It is the most advanced feature-packed release so far," said Andrzej Zydroń, CTO of XTM International. Mr. Zydroń is especially pleased with the powerful text Aligner, designed to cope with the most demanding alignment projects it can 'salvage' translation memory from what may otherwise seem an impossible task.
Complex PDF files are now converted to MS Word Documents to retain formatting; the integration with Asia Online MT has been improved and you can now create your own Custom Fields for projects, which you can use in searches and reports. A new Pre-Processing step in the workflow allows a user to correct the source content, lock segments or to create a pivot language.
XTM International CEO, Bob Willans said: "We are very proud to launch XTM v9, as this raft of new features will make the life of localization directors, project managers and linguists even easier. This new release makes XTM one of the most innovative and practical offerings on the TMS and CAT tools market today."
XTM International develops XTM, an award-winning online TMS, available via the cloud or your own servers. The centrally shared TM, terminology, workflow and translator workbench are all accessed via a bowser.
XTM is cost effective, easy to use, includes filters for all common file types and is built for collaboration. Their global customers range include some of the world's largest LSPs and enterprises.
More information is available at: www.xtm-intl.com and for a free trial www.xtm-intl.com/trial
XTM Cloud 9.0 a Better Translation Technology