Celebrated New Music CD Promotes Relaxation on 13 Native American Wood & Clay Flutes
A serene and melodic CD, "Following the Call" aids listeners in accessing intuition and personal discovery while meditating or relaxing. A former student of R. Carlos Nakai, Ann Licater delivers original music on a myriad of flutes in this debut CD co-produced by Grammy® Nominee Gentle Thunder.
San Francisco, CA, December 13, 2007 --(
PR.com
)-- Gift stores and yoga retailers have a hot new artist to promote to their customers, as Ann Licater climbs to #14 on the New Age Reporter Top 100 airplay chart.
In a majestic forest, high above the Pacific, a gifted world musician named Ann Licater looks out the studio window at the ancient trees, breathes deeply and raises a Native American flute to her lips. The plaintive, calming music fills the room, lingers and eventually becomes this remarkable new album's definitive song, "Numinous Gateway" (track #2).
Licaters' debut CD "Following the Call" lights the way for massage- and yoga-appropriate music in 16 original compositions and inspired improvisations played on Native American and World flutes. Resonating on a deep and soulful level, Licater explains "Each of the songs has its own special meaning along the journey, but the best way to listen to 'Following the Call' is from beginning to end for a long and inspirational meditation, so that you can unwind and relax from the hectic world."
Inspiration for the CD comes from Licater's "Flute for the Soul" workshops, in which she plays flute to aid people in finding their intuitive centers while journaling or meditating These unique workshops are open for bookings at all types of organizations nationwide.
Working with the flute as a healing tool, she sets a safe, meditative, creative space for her students; Ann launched the workshops a few years ago, after earning her graduate degree in Creation Spirituality from Naropa University under the tutelage of visionary Matthew Fox.
"Following the Call" delivers the music with minimal accompaniment. The 13 flutes played by Licater are from around the globe and seem to magically connect with the listener in a meaningful and visceral way. One hears a nose flute made of bamboo from the island of Maui, a Mayan ceremonial flute accompanied by a 400-year-old Tibetan metal bowl, and a double-flute made of felled California redwood (respectively, tracks 4, 5 and 16), among others.
"This is music specific to meditation & intuition. It is calming music that takes you to a place of reflection," says Licater, adding "The natural vibrations of these ancient instruments instantly transport the listener to another time and place."
Bill Binkelman of New Age Reporter, says "Following the Call" is "…an album on which the artist uses her wooden and clay flutes to deftly weave spells that comfort and enlighten the listener. This is one beautiful and serene recording.
Without going any further in this review, if you enjoy Native-influenced flute music, you should consider this a must-have release."
Her contemporary style and ancient sound are gaining admirers. Licater was named a Rising Star at the 2007 Zion Canyon Art and Flute Festival, where she has been invited to return in 2008 for an "Up Close and Personal" concert, and as a panelist for "Women of the Wind." In 2007, she also appeared as a Special Guest opening for Native American Music Award-winner Scott August at the Central Coast Native American Flute Festival, and performed at the World Flute Fest in Oakland, CA.
"Following the Call" can be heard on the nationally-syndicated radio show Hearts of Space among legendary flutists such as Coyote Oldman, Robert Mirabel and John Sierre; it is also airing on Music Choice Soundscapes channel and on radio stations nationwide.
In an initial limited release, it reached #1 on the Top 30 Music Bestsellers list at Mt. View, California's famous East/West Bookstore, the largest body/mind/spirit shop of its kind in the United States.
The CD is distributed by Spirit Voyage, Music Direct / EMI, New Leaf, CDBaby.com, and Amazon.com.
###
For additional information, images or scheduling contact publicist Beth Hilton at The B Company (805-584-8454), or, go to www.sonicbids.com/annlicater.
Contact
The B Company
Beth Hilton
310-560-8390
www.thebcompany.com

Contact
Multimedia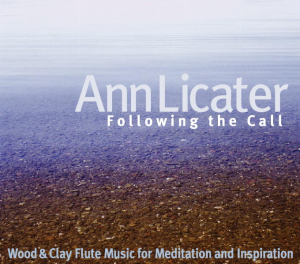 The relaxing new lifestyle CD from Ann Licater features 13 Native American Wood and Clay Flutes