Badger Truck Center Promotes Steve Kuzma and Dan Rill
Badger expands pre-owned vehicle equipment division to focus on customer solutions.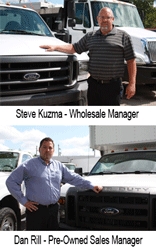 Milwaukee, WI, October 22, 2015 --(
PR.com
)-- Badger Truck Center, a family-owned commercial truck dealership, has announced the promotion of Steve Kuzma to Wholesale Manager, and Dan Rill to Pre-Owned Vehicle Sales Manager.
Steve Kuzma has recently been promoted to Wholesale Manager for Badger Truck Center. This new position was created to allow Badger Truck Center to put more focus on the wholesale market to meet customer needs more quickly and efficiently. Kuzma will be responsible for executing and managing the procurement of all vehicles in Badger Truck's pre-owned division, managing the inventory mix, and optimizing the ordering processes. Kuzma has more than 30 years of experience in the industry, with 25 years interacting with customers at Badger Truck Center.
Dan Rill has recently been promoted to Pre-Owned Sales Manager. He will be responsible for working with the pre-owned vehicle sales team. Rill has more than 25 years of experience in the industry, with 10 of that in sales. Rill looks forward to working with the Badger Truck sales and service teams to streamline the process of purchasing dependable pre-owned vehicle that fits our growing customers' needs.
"Both Steve and Dan bring more than 55 years of sales and management experience to Badger Truck Center," says Ray Pannemann, General Sales Manager. "By creating these new positions, we will be more responsive to our customers, offering them a better optimized inventory of vehicle that can fill their needs quickly."
About Badger Truck Center
Badger Truck Center, celebrating 50 years in business, is a second generation, family-owned dealership with locations throughout southeastern Wisconsin. Badger started its business with the Ford franchise, and has expanded to include Isuzu and Chrysler, Dodge, Jeep and Ram. Additionally, Badger Truck has expanded its line of businesses to provide complementary services to its customers; Quick Lane Tire and Auto Center, and Badger Rebuild. Badger's philosophy of teamwork, integrity, and open communication with customers ensures high quality equipment at the best value. Headquartered in Milwaukee, WI, Badgers services customers in throughout Wisconsin and Illinois. To learn more, visit badgertruck.com, or call 414-344-9500.
Contact
Badger Truck Center
Chris Duncan
414-344-9500
www.newglarusmotors.com

Contact