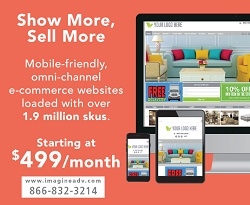 Norcross, GA, October 22, 2015 --(
PR.com
)-- Imagine Retailer adds 1.9MM product SKU's to their data feed from the leading furniture, appliance and electronics brands, so retailers can now show all the products they have "open to buy" on their website to compete with the On-Line E-Commerce Giants.
"We're proud to announce this major development and our continued investment in our digital marketing services, because that is where the consumer today spends virtually all their time," states Flora Stopher, President & Founder of Imagine Advertising and Co-owner of Imagine Retailer. "In addition, we've made it really easy and convenient for furniture retailers and brands to create a robust content web presence to engage with these wired consumers."
"All of us know all too well how the online giants are impacting the sales of independent brick and mortar retailers; without question, they are clearly taking business away, because they show thousands - if not millions - of SKU's on their websites," added Jim Spencer, Vice President of Information Technology for Imagine Advertising.
The depth and breadth of offerings by these online giants results in prospective buyers finding the items consumers are searching for on their sites much more quickly than the small-to-midsize independents, largely due to the algorithms used by Google, Bing and/or Yahoo in their search queries. With our new product catalogs, we're going to help level the playing field for furniture retailers, rent to own retailers, and multi-line retailers that carry appliances and electronics, too," emphasized Spencer.
Imagine Retailer has developed a 3-tier pricing grid.
(Package 1) Imagine Retailer Website Powered by RetailCatalog.us... $499 / month (one-time setup fee: $599)
The Imagine Retailer Website powered by RetailCatalog.us starts at $499 a month and includes a shopping cart.
RetailCatalog.us provides nearly 1 million products from the top furniture, appliances and electronics manufacturers. These are complete catalogs and always up to date. With this package, you can show up to 5 complete catalogs (in addition to their Ashley feed), totaling 6 complete catalogs for $499.
(Package 2) Imagine Retailer Website Powered by RetailCatalog.us... $699 / month (one-time setup fee: $599)
Show unlimited brands and catalogs up to 100,000 items from RetailCatalog.us with package 2, includes a shopping cart.
(Package 3) Ashley Signature Design Website (Includes Shopping Cart)... $199 / month
The Ashley Signature Design Website will hook up directly to your Ashley Direct account. It is intended to show your Ashley catalog.
Package: Includes 6 pages (Home page, About Us page, Contact Us page, Current Offer, Financing and your product catalog), a shopping cart, plus the same features of the Imagine Retailer Website which include dashboard log in, analytics, SKU management and more. Plus a dedicated online specialist to help retailers manage their websites.
"All of the website solutions have the option to add omni-channel marketing tools for a low monthly bundle price of $300.00," added Erika Sparrow, Vice President of Sales for Imagine. "These marketing tools are designed to help you sell more furniture, and include: GeoMarketing, GeoMarketing reviews, email marketing, social media posting and blogging.
"There are additional services that retailers can integrate with Crest Financial credit based payments, FlexShopper for a lease to own solution, a gift registry and more. Adding this expansive website enhancement to our vast capabilities for print, POS, online marketing, multi-media and our national promotions will level the playing field for our brick and mortar retailers to compete in their local markets where it is proven consumers would rather purchase their products for the home."
"We believe retailers need to show everything they have 'open to buy' on their websites," added Sparrow. "Some retailers only want to show what's on the floor and we think they should show everything they have access to, because that's what the online giants do. And guess what, anything you buy from OverStock, Wayfair, or One Kings Lane is a 'special order' and consumers are fine with that....just look at their sales numbers."
"Retailers need to compete head-on with the large online retailers whose sales are growing at the expense of the local home furnishing retailers," added Sparrow.
More information is available at: www.imagineretailer.com
bill@imagineadv.com
612-217-1297