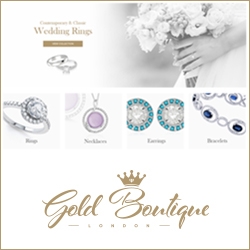 Newcastle Upon Tyne, United Kingdom, October 29, 2015 --(
PR.com
)-- After an e-commerce frenzy of fine-tuning and honing ROXOA Group has finally arrived at the end of a long but thrilling ride. Currently they are adding the final touches to their most ambitious project yet – an elegant and stylish new jewellery store called Gold Boutique. The store is scheduled to go live on Thursday 29th October 2015 and ROXOA Group's close-knit team of designers, developers and sales and marketing experts have announced that they can't wait to watch the fruits of their labour grow, awaiting this Thursday with a bottle of champagne at the ready.
Gold Boutique have invested a great deal of effort in tailoring their services to suit a range of customers and improving their users experiences, offering a rich array of content and graphics, whilst also striving to be both accessible and insightful. That's not even to mention their new and refined collection of carefully selected and keenly researched gemstone and diamond jewellery. The store has been arranged to represent the centred idea that every customer and every experience matters. Indeed Gold Boutique has been committed to matching the quality of high-end retailers and, at the same time, making their unique pieces affordable.
Following the success of ROXOA's flagship store, QP Jewellers, Gold Boutique will again be working with the esteemed Edinburgh Assay Office. Scott Walter, CEO and Assay Master of Edinburgh Assay Office, also expressed his excitement for the impending launch. He said, "We look forward to working closely with Gold Boutique, as we have with QP Jewellers, to develop an integrated hallmarking and fulfilment system which has proved to be highly successful for QP and their customers. We look forward to extending the ground breaking service to this impressive new online store. We wish Gold Boutique every success, confident in the knowledge that every purchase will carry our hallmark."
Make sure you save the date this Thursday 29th October and visit the brand new Gold Boutique store as it comes online.