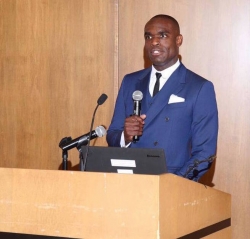 Washington, DC, October 30, 2015 --(
PR.com
)-- Dr. Clayton Lawrence, in his valedictory address as the 2015 valedictorian of the SBA Emerging Business Leaders Initiative class, made the focal point of his speech to call himself and other small business leaders towards continued and dedicated action in their communities. Quoting President Barack Obama, he stated, "Small business is the backbone of our economy and the cornerstone of our nation's promise." This is a quote that Dr. Lawrence has taken quite literally in his development of Lawrence Executive Alliance of Professionals (LEAP), LLC, as he has not only forged together a successful medical staffing company, employing more than 160 people across 11 states, but more importantly, in developing a company that is active and engaged in its Washington D.C. community.
LEAP has created its own sense of commitment and a genuine interest in being involved in the community in meaningful ways, and its recognition and success have only furthered its ability to serve the greater Washington D.C. area. Just recently, Dr. Lawrence was invited to a White House briefing with Senior Advisor and Assistant to the President, Valerie Jarrett, in a discussion that addressed topics in education, race, and criminal justice reform. Lawrence has made each of these topics areas that both LEAP and its nonprofit partner, LEAP Foundation DC, seek to improve upon in D.C.
As a longstanding personal commitment from the decorated Army veteran, Dr. Lawrence has also continued his unwavering support of the military in his 3rd full marathon for the month of October at the Marine Corps Marathon this past Sunday. Having participated in endurance sports since 2011, and running more than 8000 miles to raise awareness and funds for charitable causes, engaging in events like these emphasizes how important it is for small businesses to participate in community expressions of strength and determination.
Furthermore, LEAP, LLC has also generated a focus on the international economy. The Greater Washington Hispanic Chamber of Commerce, of which Dr. Lawrence and the LEAP organizations are a member of, hosted its 7th Annual Embassy Dinner honoring the Embassy of Spain. Several world leaders were on hand for this occasion, as Dr. Lawrence was featured with Governor Bill Richardson and His Excellency Julio Ligorria, Ambassador of Guatemala, in the Washington Informer. LEAP is also honored to sponsor the Washington D.C. Economic Partnership's Annual Meeting on October 30, 2015. This event attracts more than 1,000 attendees each year, in an effort to promote Washington D.C.'s economic development ecosystem.
LEAP's specific business mission is to globally provide competent and caring medical professionals and comprehensive healthcare solutions. However, at a greater level, and through its involvement in a growing array of public engagements and events throughout the community, LEAP is committed to providing competent care and comprehensive solutions for the most critical issues facing D.C. citizens, the citizens of our nation, and those of the world abroad.
To learn more about LEAP, LLC, please visit
www.leap4staffing.com
and follow the company on Twitter @leapllcdc.