ApexSQL Log 2016 Released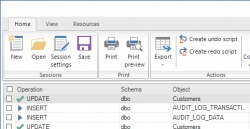 Raleigh, NC, November 25, 2015 --(
PR.com
)-- ApexSQL, a Microsoft Gold Certified Partner and major provider of Microsoft SQL Server solutions, announced the release of ApexSQL Log 2016.
About ApexSQL Log: ApexSQL Log is an auditing and recovery tool for SQL Server databases that reads database transaction logs and audits, reverts, or replays data and object changes affecting the database. It restores updated or missing data and objects, and captures information on the user, application, and host used to make each change.
For more information visit the ApexSQL Log
product page
.
ApexSQL Log 2016 includes the following new features and improvements:
Before-After report generation
Export directly to database
Continuous auditing – allows the user to carry on with auditing at the exact point where the previous auditing session was finished
SQL Server 2016 CTP3 support
Added "exclude_users" CLI switch
Added support for backup file name patterns in data source selection (also supported through CLI)
Unlimited size script editing and executing
Improved quality
Server side components no longer include any extended stored procedures
"I had downloaded the ApexSQL Log tool for a very specific need that I had to quickly find some information from a transaction log backup – and it worked Great!"
-Dave Fackler
Microsoft BI Architect
See also:
ApexSQL Log 2016 release notes
Contact
ApexSQL Software
Milos Kostadinovic
+1 (866) 665-5500
www.apexsql.com

Contact