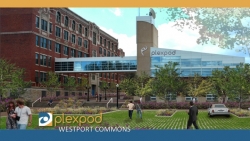 Kansas City, MO, November 20, 2015 --(
PR.com
)-- Sustainable Development Partners Kansas City (SDPKC) today announced its partnership with Plexpod, a Lenexa, KS based Coworking community, to develop the world's largest coworking facility, the next generation of office space, at Westport Commons, in 360,000 sq ft of historic school buildings on a 12 acre campus centrally located in Kansas City, Missouri, near 39th and Main.
Construction has begun on what will be an innovative workspace hub for next-generation companies. As explained by David Brain, SDPKC co-founder and former CEO of EPR Properties, a traded real estate investment trust with a total market capitalization of more than $5B, "This project is possible because Kansas City is committed to being America's most entrepreneurial city, and Plexpod Westport Commons will be a significant demonstration of that commitment." Gerald Smith, Plexpod founder and CEO added, "For entrepreneurs it's not just about being in business, but being around business. The potential for a startup or growth stage company to thrive in this environment is exponential and it starts with collaboration, excellent facilities, and access to resources like expertise and venture capital."
Using a "shared economy" model, Plexpod provides in-house resources like digital maker spaces, coding classes, a recording studio, fitness and gaming rooms, barbershop, theater and event spaces; and of course plenty of great coffee. Companies of all sizes can choose from Dedicated or Flex Desks or Dedicated Team Spaces. Regardless of the company size, everyone enjoys access to the resources of the entire facility, including dozens of conference rooms and meetup enclaves, while only paying for the unique people-space they require.
Phase 1 of Plexpod Westport Commons is expected to open in Q4 2016. Plexpod will begin accepting applications for space in January 2016.
For additional information contact:
SDPKC: Chip Walsh at 816-808-2956, or efwalsh@kcsdp.com
Plexpod: Gerald Smith at 913-948-5644, or Press@Plexpod.com
About Sustainable Development Partners Kansas City: Founded in 2011, SDPKC (sometimes referred to as Kansas City Sustainable Development Partners) is a Kansas City- based real estate development partnership. The partnership focuses primarily on adaptive- reuse opportunities and its guiding philosophy is the implementation of creative collaborative change through redevelopment. The partnership bring together wide mix of professional disciplines and expertise that is well suited to this endeavor. Its partners are Bob Berkebile (a founding principal of BNIM Architects), David Brain (who recently stepped down as CEO of EPR Properties), Butch Rigby (founder of Screenland Theaters), Lou Steele (an area commercial real estate broker) and E.F. Chip Walsh (an area development consultant).
About Plexpod: Plexpod is a 24/7 coworking community that began in 2014 with an objective of launching entrepreneurial businesses on a national stage. Its initial 25,000 sq ft facility reached capacity in just a few short months with over 150 entrepreneurial members, representing 40+ companies, collaborating daily. Its mission is found in its name: Plex, comprising of multiple units, and Pod, a protective housing. Plexpod is a reciprocal professional member organization where members enjoy access to all the facilities and resources at each Plexpod location.