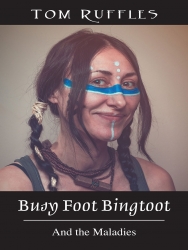 Seattle, WA, November 19, 2015 --(
PR.com
)-- Author Tom Ruffles announces the availability of his new book, "Busy Foot Bingtoot (And The Maladies)."
Overview of the book:
"We All Have One In Our Family - This Family Has Them All. Security officer Ruffles is hiding in the garage. He was writing a romantic fairy tale when the story started releasing love hormones, turning his life into a comedy of errors. Can a random attention deficit disorder cause a good woman to lose track of time? Will we ever again have a sit down dinner? How come Idaho has Blueberry Pancakes in his pockets? Humor and satire can depend on bad news when this quirky tragicomedy looks into family care-taking, family hoarding, AA, OCD, ADHD, psoriasis, random impulse buying, popular writing disorders and other pandemic maladies of the day."
Tom RUffles states, "I was transfixed with recognition since Outskirts Press published my fictional book about a family with ADHD problems a month ago. This fiction / general book includes psoriatic arthritis and the blessings of a rare liver disorder. So I was thrilled to discover disease as the new self esteem model for some of our most popular maladies."
For more information on "Busy Foot Bingtoot (And The Maladies)":
www.outskirtspress.com/busyfootbingtoot
ISBN: 978148762737