Strathmore's Who's Who Honors Joyce Gordon
Joyce Gordon, of Oxford, Ohio, wife of renowned chemist Dr. Gilbert Gordon, has recently been honored by Strathmore's Who's Who for her astounding work in the field of Calligraphy.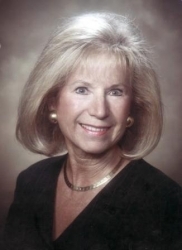 Oxford, OH, November 25, 2015 --(
PR.com
)-- About Joyce Gordon
Ms. Gordon is an accomplished Calligrapher. She designs original calligraphic pieces, such as proclamations, charters, resolutions and awards of recognition, appreciation and the like for businesses, organizations and private individuals. Her work has been commissioned by groups such as Sprint Corporation, Armco Steel Corporation, Apparelmaster, The International Drycleaners Congress, The International Ozone Association and the Confrerie des Chevaliers du Tastevin. Ms. Gordon's work has been also utilized by Universities including, Miami University, (Oxford, Ohio), Butler University and Indiana University (IUPUI and Bloomington). She has created artwork for social fraternal organizations including Sigma Chi, Delta Zeta and Beta Theta Pi and the professional business fraternity, Delta Sigma Pi. Her American Forests and MasterCard Global ReLeaf/Jean Giono Award was presented at the Executive White House. At the time of the Millennium, she was invited to create a piece for the Mus'ee du Stylo Exhibition in Paris. Her work was selected for exhibition in the 13th Annual Art Competition and Exhibit by International Graphics, Inc. and she received an Award of Distinction by the Nationwide Paper Company for her book Miami Album. Most recently, she created the Dedication Page to Queen Elizabeth for the Special Edition of E. Charles Nelson and David Elliot's book The Curious Mr. Catesby, of which copy number one with original artwork resides at Windsor Castle in England. Other copies of the Special Edition are in private and public collections including the Smithsonian in Washington, DC.
Joyce married Gilbert Gordon in 1957 and they have two children, Thomas and Lyndi. Although she received her degree in Foods and Nutrition at Michigan State University, she also had a strong interest in Art and Design. In the late sixties she was introduced to the new, burgeoning U.S. interest in calligraphy by a former student of Lloyd Reynolds, Professor of Calligraphy at Reed College in Oregon. She studied in workshops in the U.S. and then spent a part of four summers studying in England. She applied for, and was admitted to, the last Master's Class taught by Hermann Zapf (1918-2015) of Germany, considered by many to be the best calligrapher and type designer of his time. During a four month stay in Tokyo she studied in the bookbinding studio of Nobe Okano. In her spare time, along with her husband, she is an avid traveler and devotee of food and wine.
About Strathmore's Who's Who
Strathmore's Who's Who publishes an annual two thousand page hard cover biographical registry, honoring successful individuals in the fields of Business, the Arts and Sciences, Law, Engineering and Government. Based on one's position and lifetime of accomplishments, we honor professional men and women in all academic areas and professions. Inclusion is limited to individuals who have demonstrated leadership and achievement in their occupation, industry or profession.
Contact
Strathmore Who's Who
Ann Marie Barone
516-997-2525
www.strathmore-ltd.com

Contact