Esteemed Member, Philanthropist Albert C. Hanna Will be Honored by America's Registry of Outstanding Professionals in 2016
Albert C. Hanna's achievements in the field of Philanthropy earned him the position of Professional of the Year 2014 and 2015 by America's Registry of Outstanding Professionals. For the year 2016, he has been named Bio of the Month of December, Professional of the Year in Philanthropy and is a member of the America's Roundtable.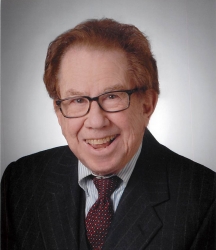 Farmingdale, NY, December 11, 2015 --(
PR.com
)-- Albert C. Hanna of Chicago, Illinois was formerly associated with Draper and Kramer Inc. as Senior Vice President. He earned his B.B.A., J.D. and M.B.A. at the University of Wisconsin. Mr. Hanna has 55 years of experience in mortgage banking, in particular, 22 years as Founder and President of Mid North Financial. This company merged with Draper and Kramer in 2004. Mr. Hanna's specialty is in Litigation pertaining to the protection of property rights and housing justice. He has over 40 articles to his credit pertaining to real estate economics and development and their impact on city finances. Mr. Hanna is affiliated with the Civic Federation, Boy Scouts of America, Hanna Venture Base Foundation and the Al and Chris Hanna Eagle Scout Foundation. His military service included enrollment in the Air Force Reserves; he then activated himself to the US Army in Korea. On September 4, 2003, A City of Chicago Council Resolution was adopted honoring Mr. Hanna as "a visionary, leader of great entrepreneurial spirit and accomplishment who has demonstrated an enviable record of professional achievement and civic leadership." Mr. Hanna's time away from business is spent skiing, playing tennis, mountain climbing (he has climbed the Seven Summits but missed the Everest Summit by 300 vertical feet). Most recently, Mr. Hanna donated a generous gift of $3 million dollars to the Boy Scouts of America, following his previous gift of $2.3 million. The Samoset Council, Boy Scouts of America (BSA) made the announcement in Weston, Wisconsin and will use the funds to extend outreach to under-served youth in Samoset County. It will also fund college scholarships for local Eagle Scouts.
America's Registry is pleased to honor Albert C. Hanna for his career accomplishments in Litigation. In addition, he has touched the lives of so many in his work as a philanthropist especially pertaining to the Boy Scouts of America. Combined with his own personal achievements in the world of skiing and mountain climbing, he is truly a remarkable personality and deserving of the recognition that America's Registry has to offer.
www.americasregistry.com/roundtable_bio.asp
Contact
America's Registry of Outstanding Professionals
Bea Hanley
516-997-2525
www.americasregistry.com

Contact