U.S. Toy Company Names Andrew Hennessey National Account Sales Manager
Andrew will concentrate on pursuing new business opportunities in different market segments across the country.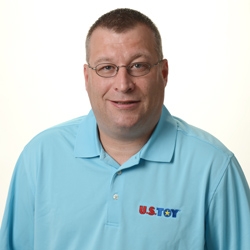 Grandview, MO, December 22, 2015 --(
PR.com
)-- US Toy Company, a 3rd generation family-owned business, is excited to announce Andrew Hennessey as the new National Account Sales Manager. Andrew is bringing with him 20 years of experience in the sales industry.
Over the years, Andrew has had the opportunity to work with several successful businesses, including Target, CVS, Walgreen's, and some dollar store chains. During this time, Andrew was selling confection / chocolate products, and is looking forward to transitioning those sales skills into the novelty toy industry. While working with these companies, he had the opportunity to effectively demonstrate passion, drive, commitment, and enthusiasm. He has led many successful sales initiatives including the sale of both branded & private label products. Additionally, he created many long lasting relationships, oversaw major projects, and most importantly helped his customers achieve their sales goals. Andrew looks forward to continuing these same accomplishments with US Toy customers in 2016 & beyond.
At US Toy Company, Andrew will have the opportunity to further expand his sales ability as he works with existing & new customers around the country. US Toy Company will be able to provide him with the resources he needs to deliver the best product and service possible. "We are very honored to have Andrew working with us. He has been a valuable asset to all of the companies he has worked with over the years, and we are very excited that he has chosen to join our team," stated CEO Seth Freiden. "With his skills and wonderful passion to work closely with his customers, we believe he will be able to do great things with US Toy Company."
About U.S. Toy Company:
The U.S. Toy Company (http://www.ustoy.com) inspires learning, creativity and fun by offering carnival and party supplies, seasonal decorations, novelty toys, teacher materials, classroom supplies and educational toys. Headquartered in Missouri since 1953, U.S. Toy Company is now a third generation family owned and operated multichannel merchant with products sold to consumers, businesses and educational institutions through catalogs, eight retail stores and various company operated websites
The U.S. Toy Company Commercial Division has been working with businesses for many years to increase profitability by displaying box planograms, wall planograms, and retail impulse displays.
For more information about U.S. Toy Company Commercial Division, please visit http://www.ustoykidfun.com
Contact
US Toy Company
Holly Bachand
816-965-2373
www.ustoy.com

Contact