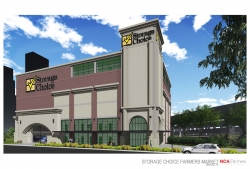 Dallas, TX, December 24, 2015 --(
PR.com
)-- Storage Choice recently announced plans to begin construction on three multistory facilities in and around downtown Dallas. Construction will begin January, 2016 on a six story 130,000 sq ft facility in downtown Dallas. The facility will be located in the redeveloping Farmers Market area – between Canton St and Commerce, next to I-45. The class A facility will include 950 climate controlled units. The project is scheduled to open in the fourth quarter of 2016.
Storage Choice will also begin construction in the 1st quarter of 2016 on a five story 140,000 square foot climate controlled facility in the Design District near downtown Dallas. The site is located at the corner of Slocum and Wichita and will include 1,000 units.
The third facility is a conversion project located on McEwen road in Farmers Branch near the intersection of Midway Rd and McEwen. Construction will begin in the 1st quarter of 2016 and will be open in the 3rd quarter 2016. The project will contain 130,000 square feet of climate controlled space.
About Storage Choice: Storage Choice is a family owned self storage company who has owned and operated self storage facilities for over twenty years. Currently the company owns twelve locations with one million square feet located in the DFW and Houston markets.