Esteemed Member, Dr. Gilbert Gordon, Named Industry Leader of the Year 2016 by America's Registry of Outstanding Professionals
Professor Gilbert Gordon of Oxford, Illinois has been recognized for his achievements and accomplishments in the field Higher Education. He has, therefore, been named Industry Leader of the Year 2016 in America's Registry of Outstanding Professionals.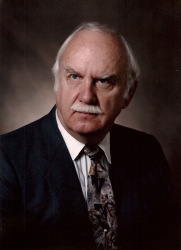 Farmingdale, NY, January 21, 2016 --(
PR.com
)-- Gilbert Gordon, Ph.D., was born in Chicago, Illinois. He is the Distinguished Research Professor Emeritus at Miami University, Oxford, Ohio. Dr. Gordon received his B.S. degree at Bradley University, his Ph.D. at Michigan State University and his Postdoctoral at the University of Chicago. He specializes in drinking water research, dynamics of chemical reactions (chemical kinetics), reactions of chlorine dioxide, chlorine and ozone (disinfectants and oxidizing agents) and analytical chemistry.
Dr. Gordon has numerous honors and awards to his credit including: Visiting Professor as a guest of the Japan Society for the Promotion of Science; Chemist of the Year (1981) from the Cincinnati Section of the American Chemical Society; Distinguished Scientist (1982) from the Technical Societies Council, Cincinnati; Sigma Xi Researcher of the Year (1982) from the Miami University Chapter and the Prestigious Miami University Benjamin Harrison Medallion (1993) for Outstanding National and International Contributions to Education and Research to name a few. He is affiliated with the American Chemical Society, is a Fellow of the American Institute of Chemists and is a member of the American Water Works Association, the Chemical Society of London, a Fellow of the Ohio Academy of Science and a Life Member of Phi Kappa Phi.
Dr. Gordon has authored and co-authored numerous publications and has served as a consultant to many environmental agencies and water works districts. Among his many publications are Stanford, B.D.; Pisarenko, A.N.; Snyder, S.A.; Gordon, G.; a contributing author to "Perchlorate, Bromate, and Chlorate in Hypochlorite Solutions: Guidelines for Utilities", J. Am. Water Works Assoc., 2011, 103 (6), 71-83. (Note in Context: At the AWWA Annual Conference in Dallas, Texas, the authors of this paper were notified that this paper had been selected as the American Water Works Association 2012 Publications Award winner for papers published by the Association in the year 2011. This Award recognizes "the most notable contribution to the science of public water supply development." It was voted as the best overall paper chosen from among the top papers from each of the AWWA Research Divisions over the previous twelve months.) Dr. Gordon also received the Morton Klein Award from the International Ozone Association. "The Klein Medallion" recognizes contributions of the highest order to the International Ozone Association in commemoration of the clear vision, diplomatic proficiency, and unparalled leadership such as characterized the life and contributions of Morton J. Klein.
During his 45-year research and teaching career, Professor Gordon has taught more than 10,000 undergraduate students, has published more than 200 peer-reviewed papers describing research with his graduate students, post-doctoral research associates and other research colleagues. He has presented more than 400 research papers at national and international meetings. His research efforts have attracted more than $6 million dollars (well in excess of $18 million in current dollars). He has received numerous awards and honors recognizing his efforts and those done jointly with research colleagues. Dr. Gordon and his students will continue to research, consult and advocate on issues that affect the drinking water industry. In 2009, he was a Senior Founding Partner of Gordon & Rosenblatt, LLC which is an independent firm that is specialized in the science, technology and application of ozone, chlorine dioxide and other oxy-halogen species. He has received awards for his excellent teaching at the graduate and undergraduate level.
His lifetime body of research and the research yet to come has had and will continue to have a major impact on both the teaching of chemistry and on the drinking water industry. He has been married to his wife Joyce since 1957 and at home in Oxford, Ohio, he enjoys wine tasting, evaluation and collecting.
The Industry Leader of the Year is an honor bestowed on a particular member of America's Registry of Outstanding Professionals for his/her accomplishments not only in one area of expertise but in several. Such is the case with Dr. Gilbert Gordon. He has already received numerous awards in the field of Higher Education, Analytical Chemistry, Water Research and Inorganic Chemistry. America's Registry is pleased to honor an individual such as Dr. Gordon.
www.americasregistry.com/il_bio.asp
Contact
America's Registry of Outstanding Professionals
Bea Hanley
516-997-2525
www.americasregistry.com

Contact