This is the Call! New Release by Ellis Williams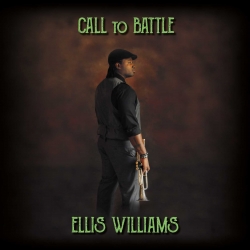 Lexington, SC, January 19, 2016 --(
PR.com
)-- Call To Battle is the follow up to Ellis' debut album Euphoria and is brought to audiences through the creative styling of record producer Andrew "Hawksilver" Piland. Available through online distribution sites such as iTunes, Amazon, and Spotify.
Listeners were so intrigued by Ellis' Euphoria that he had to come back for another joy ride! Call To Battle is the opportunity for fans to reach the studio musician on a much more personal and intimate level. The songwriter expresses his deepest and darkest emotions throughout this album while still achieving his signature sound that is raw and exciting!
Ellis takes his vocal abilities to the next level with tracks such as "My Closest Friend" and "Where Do We Go From Here?" and dazzles on "Braving Darkness" with his trumpet skills. "Mystic Safari" is a one-of-a-kind jazz overture that will take your soul on an incredible journey with the use of word painting. The title track, "Call To Battle" is a powerful message that calls the listener to action while addressing today's issues. This project is set to rock the independent music scene!
Track List:
1. Intro
2. Braving Darkness
3. My Closest Friend
4. Fixed On The Groove
5. What's Love?
6. Where Do We Go From Here?
7. Mystic Safari
8. Call To Battle
9. Excalibur
10.Looking Towards Tomorrow
11.Unchained
Contact
E Willz Music
Ellis Williams
803-636-7068
elliswilliamsmusic.com
Emarsalis1@aol.com

Contact
Multimedia
Official press release of Call To Battle, the second album of recording artist Ellis Williams.