AT&S Shows Growth with Revenue Up 76%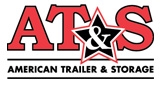 Kansas City, MO, January 09, 2016 --(
PR.com
)-- American Trailer and Storage ("AT&S",
www.ATandSonline.com
) closed out 2015 with exceptional growth and success. When compared to 2014, AT&S revenues are up 76%. In addition to the growth in revenue, AT&S acquired Arch Trailer Sales, Inc. and added personnel to their Midwest locations.
There is no doubt semi-trailer demands are on the rise in 2015 and AT&S has seen an exceptional increase in equipment sales up 114%. AT&S credits its hard working Account Managers located in Kansas City, Omaha and St. Louis, as well as their quality relationships with Hyundai Translead Trailers and Reitnouer Aluminum Flatbeds. However, the success is not simply with new trailer sales, as AT&S also saw a 28% increase in revenue with their rental fleet of storage trailers, over-the-road trailers and 20' and 40' shipping containers.
To keep up with demands, AT&S expanded their rental fleet from 2,400 to 3,500 units. Retail, trucking, manufacturers, rail transportation, construction, wholesale distributors and many other industries rely on the services of AT&S. In addition, the share of independent, non-business related customers is on the rise due to the increasing popularity of storage and shipping containers as homes, pools and other imaginative purposes.
About AT&S
AT&S specializes in containers for overflow, storage and shipping. AT&S rents or sells portable onsite storage containers, new and used semi-trailers and secure onsite portable office containers. They also offer fast, flexible service and instant answers to your questions.
Contact
AT&S
Rick Honan
816-765-7771
www.ATandSonline.com

Contact