GeniCan Wins All‐American Makers Reality Show
GeniCan Takes Home the Prize from Investor Marc Portney on Science Channel's Prime Time Hit All‐American Makers.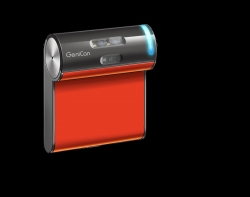 Newtown, CT, January 22, 2016 --(
PR.com
)-- GeniCan, a device that installs in your garbage can or recycle bin and automatically adds items to your shopping list has taken home the investment from venture capitalist Marc Portney on Science Channel's hit primetime show All‐American Makers.
In the hour‐long episode entitled "Hack My Smartphone," GeniCan was put through a series of rigorous tests by hardware startup experts Brook Drumm and Brian Roe. After moving on to a grueling focus group and an in‐depth session with an expert in industrial design, GeniCan proved its mettle and came out on top.
About the show experience, GeniCan Inventor and Co‐founder Rob Griffin said, "I think the biggest takeaway from All‐American Makers is the celebration of makers in America. The fact that there's a show that celebrates entrepreneurship in a reality TV format is inspiring to makers of any age, and encourages anyone to learn about science and dream big." About winning the prize, GeniCan Co‐Founder Dave Pestka had this to say, "All‐American Makers' diligence in testing GeniCan's claims on the show makes winning a true honor and validation. Marc's expertise and investment is going to go a long way to bringing GeniCan to market."
The GeniCan team also came away from their show experience with valuable advice on ways to improve the product. One such suggestion was a redesign to give GeniCan a sleeker, more modern look. Heeding this advice, the GeniCan team immediately hired industrial design firm Evo Design to give the product a new look and feel. GeniCan is proud to announce a complete redesign of its innovative product viewable via their press kit and on their website.
GeniCan, the simplest way to remember all of your groceries, is proud and honored to have been a part of Science Channel's All‐American Makers. For additional information please email Co‐Founders Rob Griffin at Rob@GeniCan.com, or Dave Pestka at Dave@GeniCan.com or call the office at 203.491.1516.
Contact
GeniCan
Rob Griffin
203-491-1416
www.GeniCan.com

Contact