Lucky Dog Hot Sauce Wins Grand Prize at World's Most Competitive Fiery Foods Contest
2016 Scovie Awards Honors Best Spicy & Savory Food Products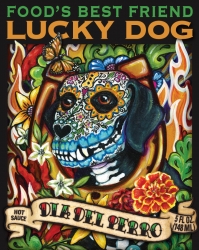 Hayward, CA, February 11, 2016 --(
PR.com
)-- The 2016 Scovie Awards judging panel honored Lucky Dog Hot Sauce with the Grand Prize in the Advertising & Marketing Division for their Día Del Perro hot sauce label art. Their winning product was applauded for its stunning label, created by Robin Case for Lucky Dog's unique and award-winning verde-style hot sauce. The Día Del Perro's label is a spectacular Dia de Los Muertos-style interpretation of the company's classic Dog/Horseshoe logo design. "The painting actually inspired the hot sauce in this case," said Lucky Dog Hot Sauce owner and sauce maker Scott Zalkind, "I was so utterly floored by the beauty of the artwork that I was inspired to create a hot sauce worthy of it!" Those efforts would seem to have paid off, as the sauce itself has since amassed five 1st Place awards including a #1 Overall for Hot Sauce at The Hot Pepper Awards.
Lucky Dog Hot Sauce is located in Hayward, CA and products can be purchased online at luckydoghotsauce.com They offer 8 varieties of gourmet caliber, all-natural locally-sourced hot sauce.
Competition for the 2016 Scovie Awards was tougher than ever. Dave DeWitt, founder of the Scovie Awards and the National Fiery Foods and Barbecue Show, said there were 126 total companies entering. There were entries from 30 states and 8 countries: the United States, United Kingdom, Canada, Germany, Sweden, Austria, New Zealand, and Australia. "Companies from all over the world continue to recognize the Scovie Awards as the most competitive and challenging blind taste-tested event in the world," DeWitt said. "I'm thrilled that participation in the awards continues to increase year after year." Guests can sample and buy Scovie Award-winning products at the upcoming National Fiery Foods & Barbecue Show (March 4-6, 2016) at Sandia Resort and Casino in Albuquerque, New Mexico. Buyers from across the country will be in attendance. For more information please visit: www.FieryFoodsShow.com.
About The Scovie Awards is an annual competition created by Dave DeWitt that recognizes the top fiery foods products in the world. The awards were named after the Scoville Scale, a measurement of the spicy heat of a chile pepper. It is one of the most competitive blind tasted food competitions. Hundreds of products are entered and go through rigorous tastings to receive the top honors. For more information, visit www.ScovieAwards.com.
Contact
Lucky Dog Hot Sauce
Scott Zalkind
510-861-9625
http://lucky-dog-hot-sauce.myshopify.com/

Contact