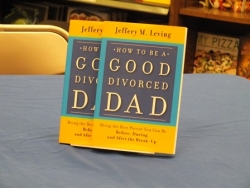 Chicago, IL, February 18, 2016 --(
PR.com
)-- On Thursday, February 18, world-renowned fathers' rights attorney and author Jeffery M. Leving will be discussing and signing his latest book, "How to Be a Good Divorced Dad," at the National Families and Fathers 17th Annual Conference at the Sheraton Gateway Hotel in Los Angeles, California. He will also be sharing critical information from his book as part of his lecture as a keynote speaker at the same event.
"This is a pain-filled book that offers good advice about how to preserve a family born of a marriage that has failed. It's a book that is, unfortunately, more and more needed," wrote late Cardinal Francis George of the Archdiocese of Chicago in his endorsement letter.
Leving's book, "How to Be a Good Divorced Dad," is a must-have resource that presents essential advice for divorced or divorcing dads of any age, background and marital history. The book is filled with practical ideas for staying connected with children and dealing with ex-wives and in some cases a new girlfriend or the wife's new boyfriend-during the divorce and afterward.
Leving's book is an essential reading for the millions of American fathers routinely excluded from their children's lives by a biased system in which greed and retribution too often overwhelm compassion and concern.
About Jeffery Leving
Jeffery M. Leving has been recognized by government leaders (including the last three U.S. Presidents and the Illinois House of Representatives), private industry, his peers, and non-profit agencies. His latest book, 'How to be a Good Divorced Dad," received praise from President Barack Obama, and was endorsed by the late Cardinal Francis George of the Archdiocese of Chicago.
For more information, visit http://www.dadsrights.com.